Nayanthara Vignesh Shivan Surrogacy: No Rules Were Violated, TN Govt
Vignesh Subbaian (Author)
Published Date :

Oct 27, 2022 11:16 IST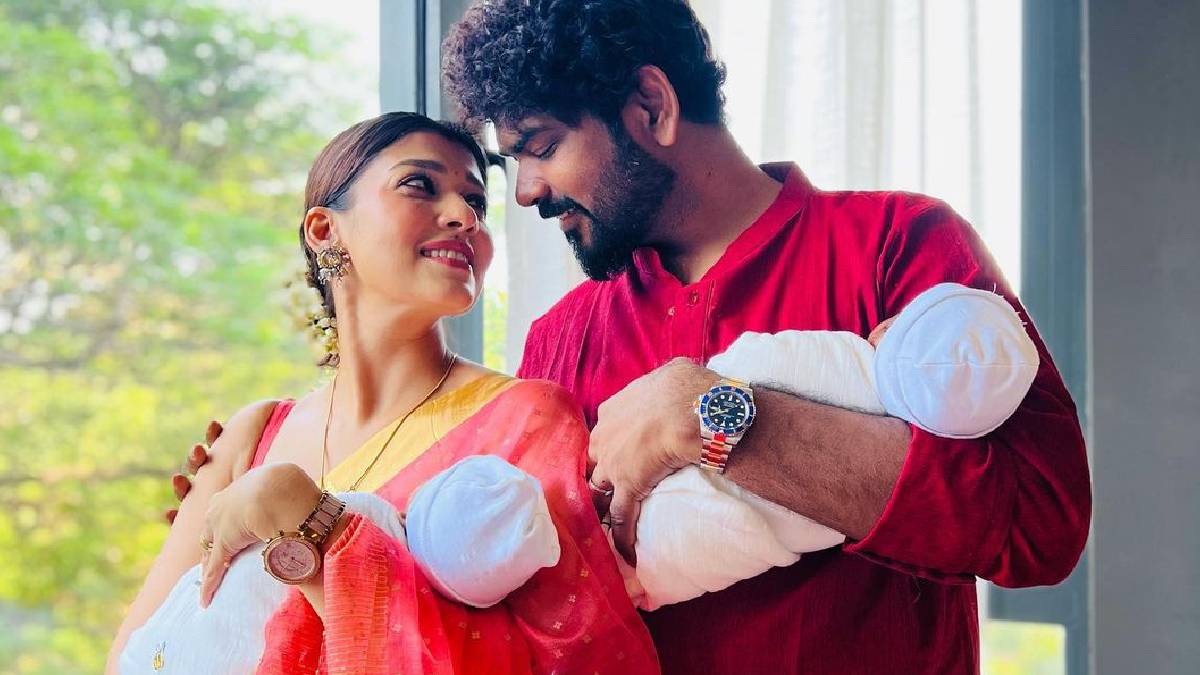 Actress Nayanthara married director Vignesh Shivan on June 9. After four months of marriage, on the 9th, the Nayantara and Vignesh Shivan couple said on Twitter that they had twin boys and posted pictures of them kissing the children's feet with their hands.
Everyone was confused, wondering how they had a baby within four months of marriage. Nayanthara and Vignesh Sivan couple got a baby through a surrogate. Controversies arose that surrogacy regulations were violated in this matter.
Following this, an investigation committee was formed on October 13 by the Director of Medical and Rural Welfare, and the investigation was conducted. Nayanthara and Vignesh Shivan had a baby through artificial insemination technology and surrogacy at a private hospital in Chennai.
After that, a direct inquiry was conducted with the doctors treated at the concerned private hospital and the doctors who treated the surrogate mother. A high-level committee inquiry has revealed that surrogacy was carried out following the guidelines for surrogacy in the case of Nayanthara and Vignesh Shivan's twins.
By this, it is clear that neither of them broke the rules. The details of the high-level panel report released yesterday evening are as follows.
In this investigation, the age of Nayantara and Vignesh Sivan couple and surrogate mother, Indian Institute of Medical Research (ICMR), artificial insemination technology and surrogate mother. It was revealed that the procedure was carried out as per the guidelines.
The investigation revealed that the surrogate mother is of eligible age as per the ICMR guidelines section and is married with one child alive.
The hospital submitted a registration certificate stating that the Nayanthara and Vignesh Sivan couple was married on March 11, 2016. The registration department verifies the authenticity of the marriage registration certificate.
The medical certificate of the Nayanthara and Vignesh Shivan couple's surrogacy has been submitted to the Inquiry Committee as per ICMR Code Section.
When questioned, the doctor who treated the couple at a private hospital stated that he treated them based on a referral letter issued by their family doctor in 2020.
The team did not investigate the family doctor as it was revealed that the address of the family doctor had been transferred, and the phone numbers were not in use when contacted. Further investigation revealed that the doctor had gone abroad.
The hospital must properly maintain treatment records of patients related to ovum treatment.
In August 2020, ovum and sperm were obtained, the eggs were created and stored in the hospital in a frozen state, and the surrogate mother contract was signed in November last year. It is learned that the eggs were implanted in the surrogate mother's womb in March this year, and the babies were delivered in October.