Ner Konda Paarvai 3rd Single Thee Mugam Dhaan Released Today 6 PM
Vijayan Sankar (Author)
Published Date :

Jul 20, 2019 13:02 IST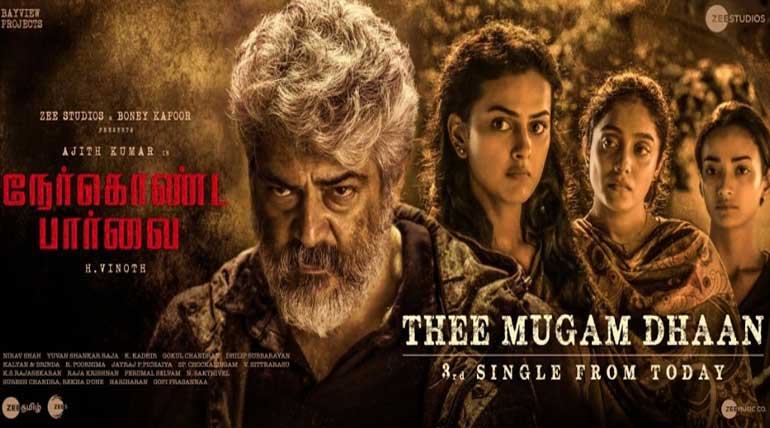 Nerkondra Paarvai theme song for Thala Ajith by Yuvan to be released today evening 6 PM
The much-awaited third single track of Nerkonda Paarvai is set to be released today evening. The fans went frenzy when the theme release announcement by its producer Boney Kapoor.
They expect the theme to be like that of Billa or Mankatha or even better than them. The already released two single tracks were a great hit.
Ajith and Yuvan Combo is always a hit with songs, and background BMG:
The Combination of Ajith and Yuvan has already given some super hit songs. To name a few are Billa, Mankatha, and Arambam. All are hi-fi Ajith films which were big hits. Ajith and Yuvan combo are set to hit the bull's eye with Nerkondra Paarvai.
The first two single-track audio releases and their success:
The first single track of Nerkonda Paarvai is still ringing in the mobile phones of his fans. Though it was a motivational song for women, it is liked by both men and women.
The melody in the song "Vanil Irul" mesmerized those who heard it and took the listener to a new horizon. The second track of "Kalam" song was a party song and also aimed at the women audience.
What is the third single track song of Nerkondra Paarvai to be released today?
After the release of the first two single tracks, there are only two more audio releases for Nerkondra Paarvai. One is the love song between Thala and Vidya Balan. The theme song is expected to be released today and the love song by next week.
Ajith in Nerkondra Paarvai:
Ajith accepting H.Vinoth proposal of this social action movie is because of its original movie Pink in Hindi. The character Ajith to perform in the screen is that of a lawyer who also fights with thugs.
The role played by Amitab Bachchan in Hindi will bring in a new versatile Ajith. It will be a treat to the fans of his actions in court and in fight scenes to save the three girls including the gorgeous Shraddha Srinath, Abirami of Bigg Boss Tamil 3 fame and the ever beautiful Andrea.
The theme to be released today will increase the pulse of his fans and also the general public alike. All eyes and ears are waiting for Boney Kapoor's third audio release of Thala Ajith's Nerkondra Paarvai today evening.