Ner Konda Paarvai Movie Review: Family Coverage A Girl is a Girl
Vijayan Sankar (Author)
Published Date :

Aug 08, 2019 09:37 IST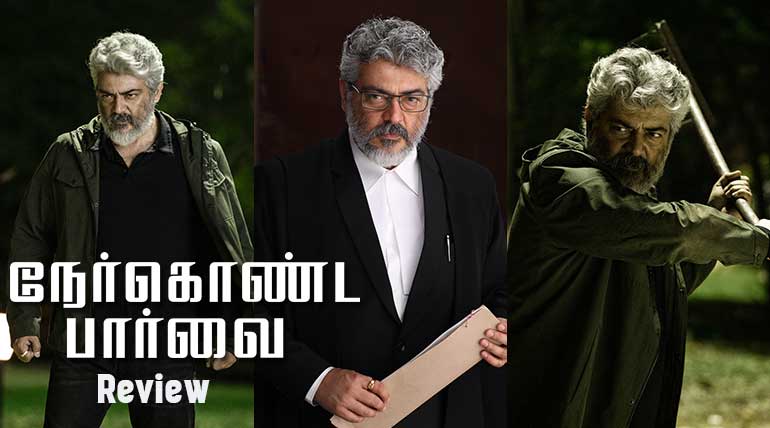 Ner Konda Paarvai released today to showcase the talents of Ajith
At last the long wait of Ajith fans has come to an end now. The fans are jubilated watching their semi-god on screen again. Today is the Deepavali for Ajith fans, and they are enjoying to their fullest satisfaction. The movie did not disappoint their wishes and only increased the tempo of the fans. Produced by Boney Kapoor and outstanding directorship of H.Vinoth makes the NerKonda Paarvai a compelling movie to watch not only by fans but also the public.
Ajith movie or Ajith character movie?
Ajith with Ner Kondra Paravai has gone one step more in his film career. From being theAjith movie many critics and fans have concluded that it is not Ajith movie but Ajith character movie. The way he performs the lawyer character to free the three girls in crisis is outstanding. The dialoguedelivery, facial expressions, body language, and that ticking cunning laugh will enthral the fans and general public again. The plot being therescue of three women in grave trouble will make the female audience flock to the theatres for Ner Kondra Paravai.
Highlights of Ner Kondra Paravai movie:
The clean-shaven Ajith with lovely Vidhya Balan fantastic flashback ends with the romantic song for the fans to view it again.
Ofthe three women, Shraddha Srinath outperforms others. She does justice to her role as victim and copes up well with Ajith. The much expected Abiraami ends up with a soft character and fails to make an impact. Thisfact could also affect voting of the public in to save her from the Bigg Boss 3 Tamil reality show.
The dynamic small screen debate king, Rangaraj Pandey does it again in the big screen. His argumentative skills in court against Thala bring whistles and celebration of talent on the screen.
The writing of H.Vinoth with two others for intelligent cross-questioning and other dialogues uttered by Ajith and Pandey will be the highlight ofthe movie.
Since it is more about court drama, Ner Kondra Paravai is much of a character and conversational movie for Ajith. It brings his real caliber of delivering dialogues, which are his speciality.
Yuvan's wonderful BGM in Ner Konda Paarvai:
Alreadythe song of Ner Kondra Paravai being a big hit on the internet, the movie brings in the other special of Yuvan, the BMG. NKP second part being more of conversation Yuvan brings in his magic of BMG to highlightthe importance of certain dialogues which are vital for the movie moving forward. Hence it has to listen carefully for having the total satisfaction and enjoyment of Ner Kondra Paravai .
Book your tickets now for a fantastic family entertainer Ner Kondra Paravai to explore the extraordinary talents of Thala Ajith.