Women-focused Nerkonda Paarvai Earns Special Show For Ladies in Sakthi Cinemas Tiruppur
Anusha Sathish (Author)
Published Date :

Aug 12, 2019 11:51 IST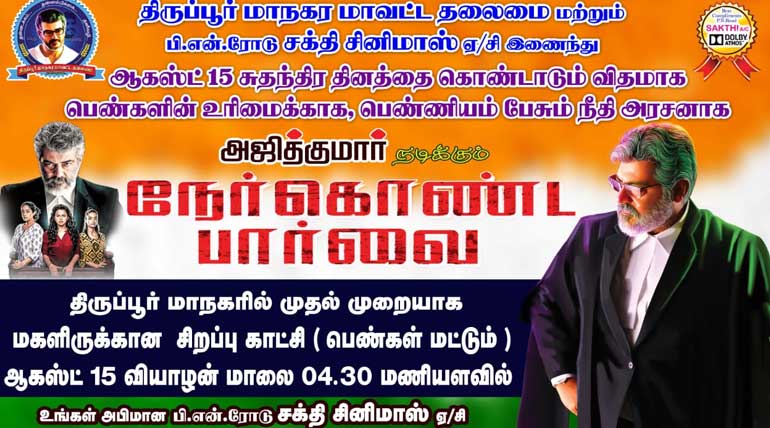 Women-focused "Nerkonda Paarvai" earns "special show for ladies" in Sakthi Cinemas: Independence day, Women-focused, a special show for women come collinear and the much-applauded movie "Nerkonda Paarvai" earns special show status for ladies on August 15th at 4.30 P.M at Sakthi Cinemas, P.N.Road, Tiruppur. One of the popular Theatre with neat Maintenance, Luxury seats, Full AC, Awesome Sound system with UHD Projector for Customer-focused theatre in Trippur.
Never in recent past, such an honour being given to any movie. What is special in this movie? Generation X and Y, to an extent, said this is a legal genre film and relate this to a famous legal film in Tamil called "Vidhi".
Vidhi was a hit movie acted by veteran actors Sujatha, Jaishankar, Mohan and Poornima. The movie was also a women-focused and has created a revolution in the field in those days. Nerkonda Paarvai movie which has come after 35 years also portrays the same, which means the society is not changed even after 35 years?
Social Media is replete with memes and messages "No means No". Women have been given special status in this movie, and 2019 is Ajith's year reports said. Next to his hit film Viswasam, "Nerkonda Paarvai" is casting its spell in the box office. Everyone those who come out of theatres let out emotions. This movie is an alchemy which helps in women empowerment and outlines upliftment. The movie directed by H. Vinoth is a remake of Amitabh Bachchan's Bollywood movie "Pink" which stresses on women safety and patriarchy.
It is said that within two days it has exceeded a collection of Rs 30 crore and will very soon zoom past the Viswasam collections. In UAE also it has earned a collection of Rs 2.1 crore in two days. Thala Ajith in lawyer suit looks overwhelmingly handsome. Different ratings have been given in different reviews but altogether a very nice movie outlining the social cause. It obviates the public that even after 35 years, the society has not come forward to change. Special show in Tiruppur is expected to expedite "Ladies gathering" on a special day for India.