Netflix Announced Mobile Plan for Just Rs. 199 to Indian Mobile Customers
Vijayan Sankar (Author)
Published Date :

Jul 25, 2019 10:51 IST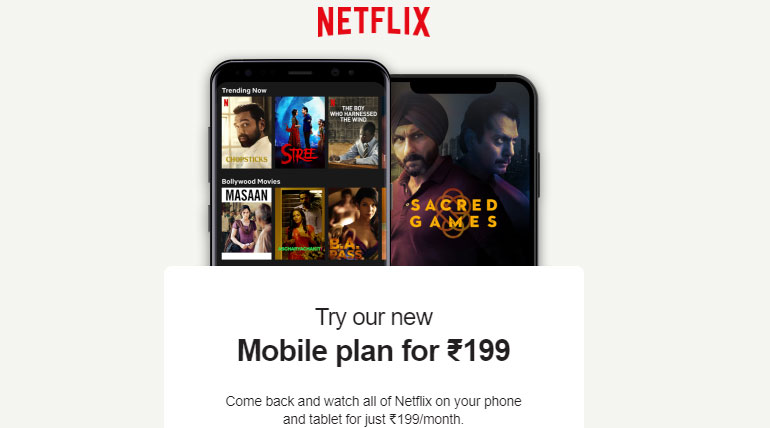 Netflix is now cheaper at Rs.199 plan from today to stream all your favorite movies.
Netflix to beat its competitors and to increase its customers in India is available from today at Rs. 199 per month.
It is far below its previous subscription of Rs. 799, and 499.
Now it is cheaper than its competitors Hotstar @ Rs. 299 per month but still costlier than Amazon prime at Rs. 129 per month.
No strings attached announcement from Netflix:
Yesterday, i.e., 24th July 2019 Netflix, a popular American video streaming giant announced its cheaper monthly plan of Rs. 199.
It enables many Hollywood, Bollywood, and other international movies streamlined 24hours a day. Also, it is streaming some of the widely watched series like Sacred Games, Chops Sticks, and Mighty Little Bheem.
All the series have their particular audience. Now it is easy to download programs while saving data on the go.
Also, Netflix promises no strings attached as there are no commitments, and if one decides to discontinue the service, They can cancel subscription anytime. Also, Netflix can be called for service at any time online.
Netflix to offer SD on one phone:
The new Netflix offer today at Rs. 199 will stream its videos in SD or the standard definition, which are neither low nor high definition views.
Also, it can be viewed only from one smartphone or tablet at a time.
But, why this sudden move by Netflix?
Netflix, while posting its results on 17th July for the last financial year, reported losing 130,000 US customers last year.
Also, the predicted 4.8 million customers outside of the US, not subscribed as expected. A palpable 2.83 million customers subscribed to paid service added in the said period.
The share price of Netflix plunged in the share market by more than 12 %. Hence eyeing the Indian market where mobile usage is the highest in the world, Netflix has made this offer, which was in the pipeline for a long time.
As per a FICCI-EY 2019 report, Indians spend 30 % of their phone time on entertainment, which also includes 70 % of mobile data.
Nigel Baptiste of Netflix said that their goal is to get it on as many mobile devices as possible. Further, Nigel said Netflix is already on 1700 + device models.
Whatever may be the reason for Netflix, it is cheaper from today for Indians to watch their favorite movies and series.