Tamil Movies 2021: List Of Tamil Movies To Be Released On September 24
Thangaraja Palaniappan (Author)
Published Date :

Sep 23, 2021 16:16 IST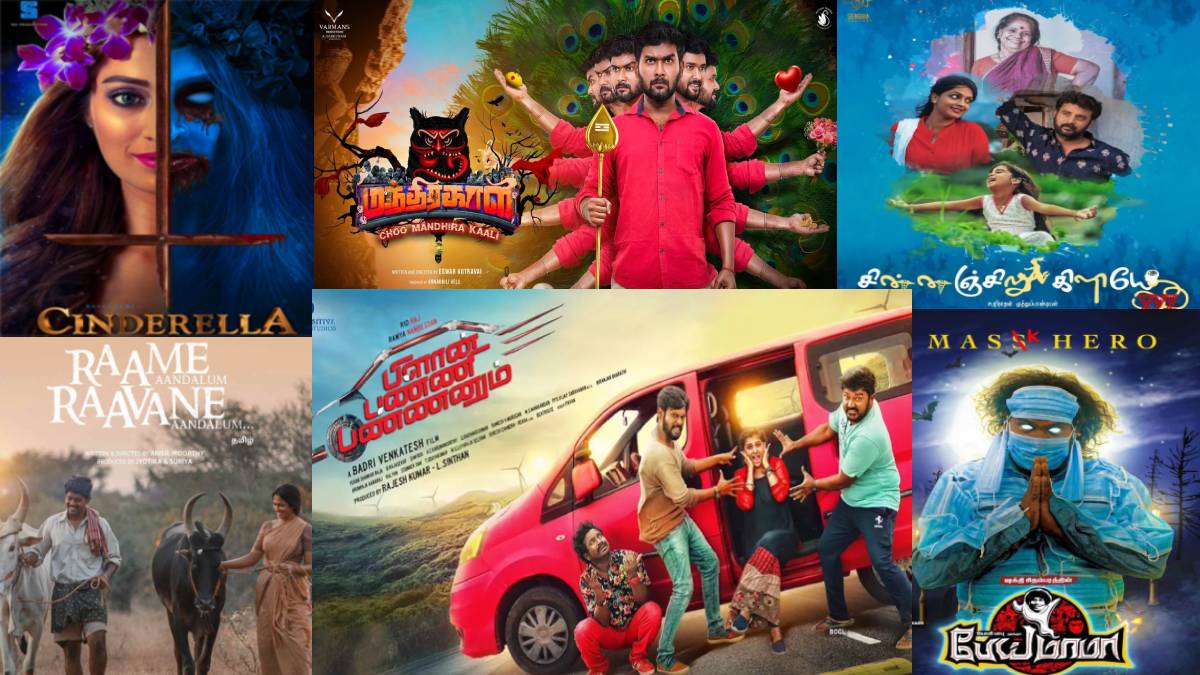 It is going to be a visual treat for the movie lover. The list of movies to be released in theatres tomorrow is more than six. After the decline of covid cases in Tamil Nadu, the government opened theatres and malls. Movie fans watched movies on OTT platforms for so long, and now they started showing interest in watching movies in theatres.
New Tamil movies with uniques and different concepts are releasing every week. Few films are slightly dull, and few films are really interesting. Here is the list of Tamil movies to be released tomorrow, September 24, 2021.
Cinderella:
Cinderella is a fantasy, horror, thriller film starring Raai Laxmi and Bigg Boss fame Sakshi Agarwal. Vinoo Venketesh directs the film on his directorial debut under the banner SSi Productions. The film circles with a cinderella dress which look pretty and gives the thirst to own it.
A poor maid girl wishes to own the dress, which will be showcased in a shop. She works hard and buys the dress with her hard owned money. What happens to the poor girls after getting dress, and what happened to the characters? What threatened them? are the other part of the story.
Chinnanjiru Kiliye:
Among the commercial films, 'Chinnanjiru Kiliye', a Tamil movie that has won 24 international awards, is on the list of must-watch movies. Many films in Tamil cinema has spoken about motherhood. But only a few films have screened on fatherhood.
Chinnanjiru Kiliye is a film that views the love and bond shared between father and daughter. When it comes to a father, his daughter will be his first princess. Focusing on father-daughter affection has been created very elegantly and realistically to illustrate the paradox of English medicine and the greatness of natural medicine.
The film also sheds light on the corporate business of the medical profession. The film has been highly praised by critics and fans who have seen it at world film festivals. The film is directed by Sabarinathan Muthupandian and produced by Senthilnathan S. The lead roles are handled by Senthil Nathan, Sandra Nair, Archana Singh, Kulapuli Leela, Vikramadityan.
Choo Mandhirakaali:
Eswar Kotravai directed the film Choo Mandhirakaali starring new faces Karthikeyan Velu, Sanjana Burli. The movie 'Choo Mandhirakaali' tells the story of a village about those who believe and don't believe in two things as it is said that there are two kinds of powers in the world, the power of God and the power of magic. The film revolves around a girl who gets trapped in a situation where the hero will come to rescue her.
Pei Mama:
Pei Mama is a comedy film directed by Sakthi Chidambaram, starring Yogi Babu in the lead role. The film is going to entertaining which can be watched with family. Other characters in the movie are Boddkey, Chaams, Imman Annachi, Kovai Sarala, MS Baskar, Malavika Mohan, Rajendran, Ramesh Khanna, Rekha Josephine and Vaiyapuri.
Plan Panni Pannanum:
Plan Panni Pannanum is a comedy film directed by Badri Venkatesh, produced by Rajesh Kumar and Sinthan L from Positive Print Studios. The film stars Rio Raj and Remya Nambeesan playing the lead roles. The music director of this film is Yuvan Shanker Raja. The film holds many lead roles, including Anaika Soti, Aadukalam Naren, M.S Bhaskar, Munishkanth, Robo Shankar, Santhana Bharathi, R. S Shivaji, Tiger Thangadurai, Bala Saravanan.
Raame Aandalum Raavane Aandalum:
Raame Aandalum Raavane Aandalum is a film that potrays the rule life. The film is a mix of human emotions and comedy. Arisil Moorthy directs the movie with the music of Krishh. This film is an absolute family film which can be watched with kids.
The lead roles are handled by Mithun Manickam, Bigg Boss fame Ramya Pandian and Vani Bhojan. The film was produced by Jyotika & Suriya. The film will be released on the OTT Platform. Watch Raame Aandalum Raavane Aandalum full movie on Amazon Prime.
Veerapuram:
Veerapuram movie is based on an actual incident centred on sand robbery. B. Senthil Kumar directed the film, and P. Gunasekaran produced the film. Mahesh Kumar, Meghana, Jaya Kumar and Amira are acting in significant roles.