Official Confirmation NerKonda Paarvai Tamil Nadu Theatrical Rights Sold Out
Vijayan Sankar (Author)
Published Date :

Aug 01, 2019 18:03 IST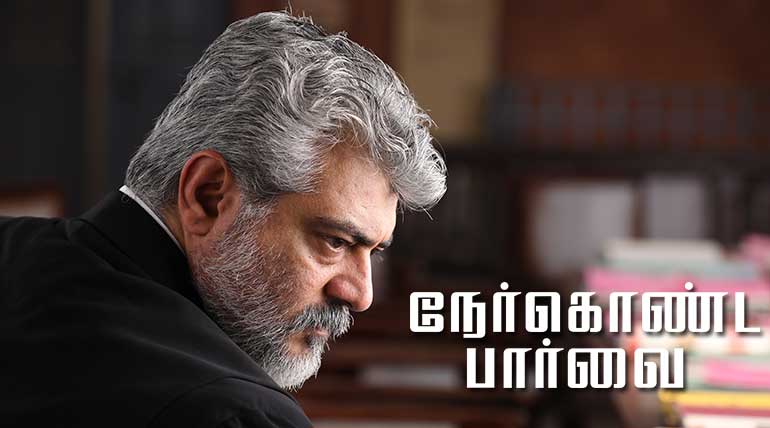 NerKonda Paarvai Tamil Nadu Theatrical Rights - Dynamic distributors for Thala movie NerKondra Paarvai increases expectations
It is August from today, and Thala fans are already started watching their calendars. Their much waited for Ajith movie NerKonda Paarvai is to be released on August 8th 2019. Today to make them happier, the producer Boney Kapoor has tweaked the distributors for Thala's movie. How could it be less than the stature of S Pictures and Kanthasamy Arts? This announcement will increase the fever of NerKonda Paarvai more as they are renowned distributing houses which have a reputation for making wonderful movie releases.
Kanthasamy Arts & S Pictures:
Boney Kapoor's tweet has increased the pulse of the Ajith fans of letting them know who will be distributing Thala movie in their area. For Chennai, North Arcot and South Arcot it will be the S picture and for Coimbatore, and surrounding districts it will be by Kanthasamy Arts. It is a well known distributing company for many years. Kanthaswamy Arts K.Rajamannar have enough experience to handle movies like NerKonda Paarvai. Their recent releases will speak of their calibre. Petta, Viswasam, and Sarkar are the few names which could shed enough light on Rajamannar and his releasing capabilities. S.Picture G.Srinivasan is also a big name in the industry. He has previously released Velaikaran and many movies.
NerKonda Paarvai expectations by Ajith fans & public:
Ajith playing the role of Amitabh in Pink is expected to better his performance which is no small deal.
Ajith is acting as a lawyer for the first time and his intelligent cross-questions to help the three girls will be spectacular to watch. Ajith's unique dialogue delivery and facial expressions will be a treat to not only his fans but also to all people.
1. Unlike the Hindi version, Thala will also thrash goons to the glee of the fans
2. Thala pairing with versatile, evergreen and queen of Hindi cinema Vidya Balan has increased the pulse of his fans. The latest single track audio release of their love song with Ajith in a clean shaved face is maddening his fans.
3. Even though the storyline is known from the Hindi version, it's handling by H.Vinoth could be something different and wonderful. His previous movies Theeran Adikaram onru and Sathuranga Vettai are movies above par. His style of creating movies, both commercial and with class, will be the highlight of NerKondra Paarvai. His handling of Ajith could be the best moments in the movie. He, along with Ajith, has already been booked for the next film of Boney Kapoor. It speaks volumes about Vinoth and only assures that Thala is still the game changer of Tamil Cinema.
The countdown starts and gets set for the 8th to watch one of the best of Ajith's performance in NerKonda Paarvai.