Kurumpadam by Kamal proves the popularity of Kavin in Bigg boss 3 Tamil show
Vijayan Sankar (Author)
Published Date :

Sep 29, 2019 08:41 IST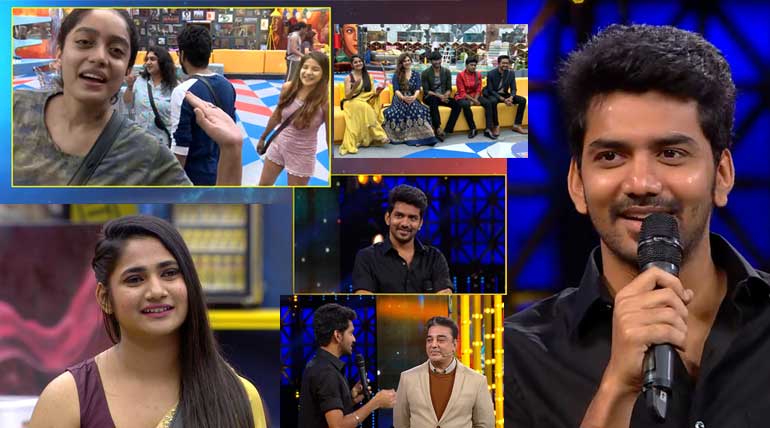 Kurumpadam by Kamal proves the popularity of Kavin in Bigg boss 3 Tamil show: Kavin proved his worth again in the Bigg boss 3 Tamil house when Kamal showed his Kurumpadam yesterday. Even Kavin haters will not miss seeing how Kavin transformed the Bigg boss 3 Tamil show to massive success.
It was his single hand activities that were the highlights of Bigg boss 3 Tamil show. It showed his versatile characters of a lover boy, angry youth, lovable person, competent and caring friend and whatnot in the Bigg boss 3 Tamil show.
Kamal proved Kavin is the hero of the Bigg boss 3 Tamil show: If anyone had any doubt about Kavin's credentials and capabilities, it was not anymore with Kamal proving his worth yesterday in Bigg boss 3 Tamil stage. Though Kavin was brought back to Bigg boss to explain to the contestants and audience, the reason for his self eviction, it made him the hero of Bigg boss 3 Tamil show.
Kamal, with his brilliance, brought the best of Kavin, and also congratulated him for not nominating any of contestants in the Bigg boss 3 show for eviction with anger. Kamal's interruptions, expressions, and closeness to Kavin are rare feet to watch on TV.
It seemed from yesterday's show that even Kamal enjoyed being with Kavin and handing over the dummy cheque of Rs. 5 lakhs to him.
Yesterday's show was full of Kavin and also Sandy being saved: The 98th day was full of Kavin again in the Bigg boss 3 Tamil show. Even after his self eviction from the show, he gets the applause from the audience. But yesterday also being the crucial day for evicting one of the five contestants, it gained importance.
Sandy was saved and will be the only contestant in the last four from Tamil Nadu. Tharshan will be eliminated tomorrow to increase the TRP and put a lot of hardship to a lot of people. But again Bigg boss 3 Tamil show is a game, and only one can win it.
Next week we can see who the winner who can take the 50 lakhs home and could have Kavin again on stage.