Prasthanam Hindi 2019 Full Movie HD Print Leaked Online in Tamilrockers Wesbite
Vijayan Sankar (Author)
Published Date :

Sep 21, 2019 16:00 IST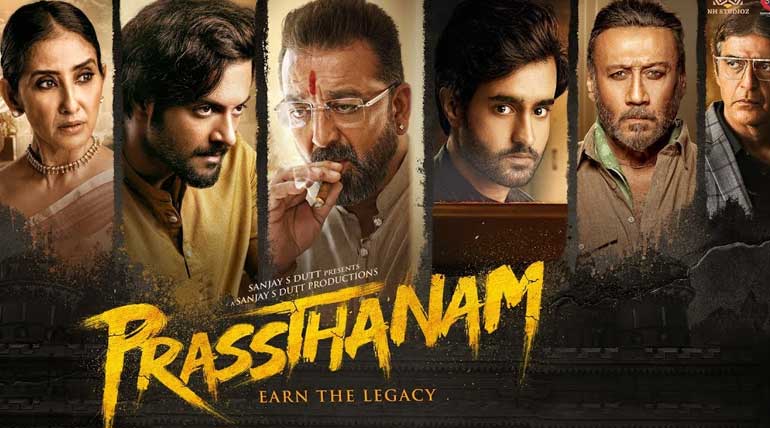 Prassthanam streamed online by Tamil Rockers to cause damage to its producer Sanjay Dutt: Tamilrockers stream online the Sanjay Dutt starring Prassthanam as soon as it was yesterday. Prassthanam of Deva Katta failed to bring its success in Telugu in 2009. Sanjay Dutt acting in the leading role does justice to it, but as a producer fails to capitalize on the success of its Telugu version. Deva Katta's political action film set on the backdrop of UP's Lucknow is not well organized like its Telugu version.
There is one song here and a shoot out there without any clarity to the viewer what is happening. Sanjay Dut after serving a sentence until 2016, wanted a break with Prassthanam, but from the reviews for its release, yesterday, it is not as expected for him.
Sanjay Dutt plays the role of the Loki in Telugu Prassthanam in Hindi: Sanjay Dutt has selected his part in the Prassthanam to suit his acting skills and image. The much-acclaimed Loki role of Prassthanam is that of a loyal servant of a politician marrying his widowed daughter Manisha Koirala. The tug of war between his biological son and his stepson is the storyline. The twist in the climax and the role of the politician father of his warring sons set the stage well for Sanjay Dutt to perform his best.
But the other characters of Jackie Shroff, Chunky Pandey, and others fail to deliver. Deva Katta fails to transform the southern movie nature to that of UP's backdrop.
Tamilrockers rub salt to Sanjay Dutt's wound by releasing Prassthanam online: With yesterday's reviews not much in favor of the movie, there was more bad news for Sanjay Dutt. Tamilrockers streamed his movie Prassthanam online. It enabled his fans and the general public across India to watch it on the Internet. It will bring significant damage to the already beleaguered box office collections for Prassthanam.
Someone has to stop Tamilrockers who are now spreading their wings all over India from their previous release of only Tamil movies.
&nbsp
Tags :&nbsp
Prasthanam 2019
,
Prassthanam in Tamilrockers
,
Prassthanam HD Prints in Tamilrockers website
,
Tamilrockers HD Movie dwnld 2019
,
tamilrockers 2019 tamil movies latest
,
tamilrockers 2019 movies
,
tamilrockers hd movie 2018
,
Tamilrockers Leaked Movies 2019
,
tamilrockers new domain
,
tamilrockers new url
,
Tamilrockers new movies 2019
,
tamilrockers new url 2019
,
Prassthanam Hindi full movie download tamilrockers
,
Prassthanam Hindi Full Movie Leaked Online by TamilRockers
,
Prassthanam hindin Leaked for Free download in TamilRockers
,
Sunjay dutt Prassthanam hindi movie in Tamilrockers