Prathi Roju Pandaage Review: A one time watch family comedy film
Vignesh Subbaian (Author)
Published Date :

Dec 20, 2019 21:50 IST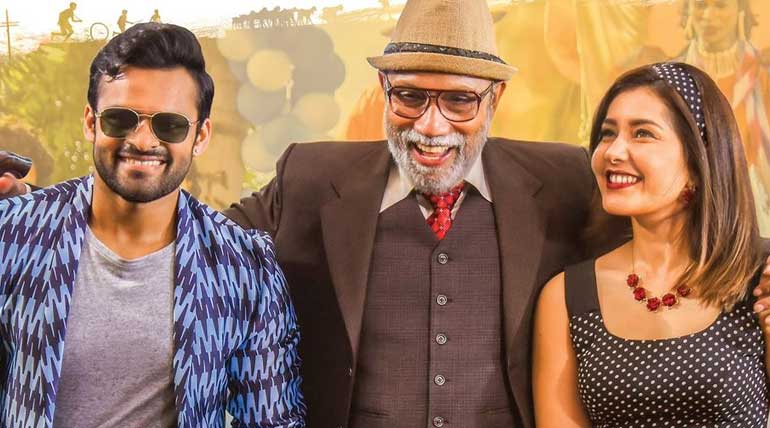 Prathi Roju Pandaage a one-time watch family comedy film: Prati Roju Pandaage is a family comedy film well directed by Maruthi Dasari. Sai Dharam Tej plays the lead role of a loving grandson rushing from overseas to take care of his ailing grandfather. Sentimental Telugu people will enjoy this low budget family entertainer with a lot of emotional and comedy scenes.
The famous producer Allu Aravind has produced the movie to entertain the Telugu audience for the 2019 year-end. Young and talented Maruthi, who started his career as a producer, is now a thriving family cinema director. He has chosen a sentimental story of love between grandfather-grandson along with a local love story with average comedy scenes.
The storyline of the movie is simple, with Sai flying from overseas on hearing the news that his grandfather Sathyaraj counting his days. He goes on to complete his bucket list, which includes his love for Rashi Kanna. But his father has different plans to marry him to another girl for his business expansion. What happens is the story for Telugu people to enjoy on the big screen.
For comedy Maruthi also the screenplay writer has taken the new Tik Tok route and, to some extent, will make the Telugu people laugh. The bonding between father-son-grandfather is well handled by Maruthi for the audience to have a feel-good feeling when coming out of theaters.
Sathyaraj plays well his character of an older adult about to die in five weeks due to lung cancer. His relationship with his grandson Sai is well brought out by Maruthi. It could make many young audiences to spare at least a few minutes with their old grandparents.
S. Thaman has made the most in the five songs and is a plus for the sentimental movie. Prati Roju Pandaage is a sure family entertainer with a new comedy concept for Telugu people to watch once on the big screen.