Sivaangi Meet Shreya Ghoshal Her Dream Idol Video Going Viral
Sophia Loren (Author)
Published Date :

Dec 19, 2022 16:02 IST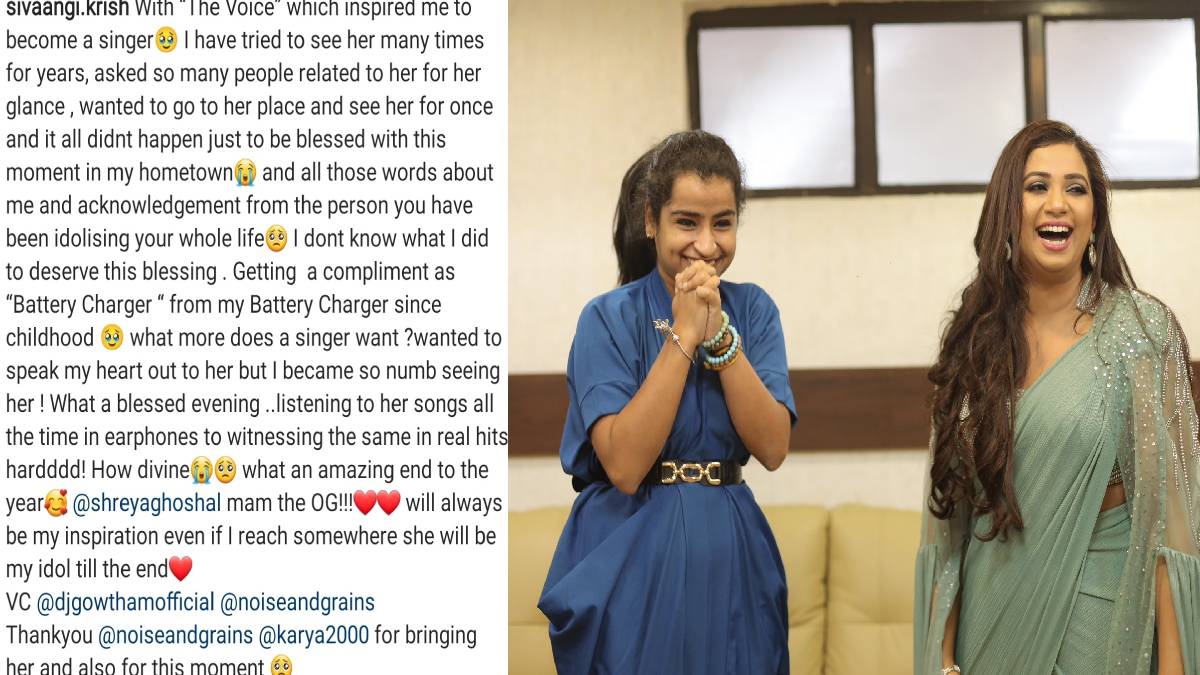 Young Singer Sivaangi, who gained popularity through Super Singer and Cook with Comali, has personally met and talked to famous singer Shreya Ghoshal. A video of singer Sivaangi standing speechless after seeing HER Idol, Shreya Ghoshal, is going viral on the internet.
Sivaangi is one of the many who started her journey with singer Shreya Ghoshal as her inspiration. In this case, Shivangi has personally met Shreya Ghoshal. Shreya Ghoshal compliments Shivangi on her talent, who is stunned to see Shreya in person.
Singer Shreya told Sivaangi, 'I have seen all the videos where you talk about me. Even though you spoke in Tamil, I have asked to translate it.'
She also mentioned that Sivaangi was very talented and was amazed by her dynamism. Sivaangi was shocked to hear this and continued, Ghoshal said, 'I have also seen the videos of you singing in concerts that you have shared with me.'
Overwhelmed, Sivaangi said to Shreya Ghoshal, "I started singing because of you. My ambition is to be like you". Ask even Karthik Anna, 'I have asked him many times; When you meet her, take me too,' she said. Shreya says that Sivaangi is my battery charger for today, and Shivangi goes to the peak of surprise. Sharing this video on her Twitter page, Sivaangi tagged Shreya Ghoshal for giving a lifetime memory.
? @shreyaghoshal mam thankyou so much you have given me a lifetime memory❤️ pic.twitter.com/FY2xpYHSzn

— Sivaangi Krishnakumar (@sivaangi_k) December 19, 2022