Sixer Movie Review: Average Comedy Entertainer
Vijayan Sankar (Author)
Published Date :

Aug 30, 2019 21:56 IST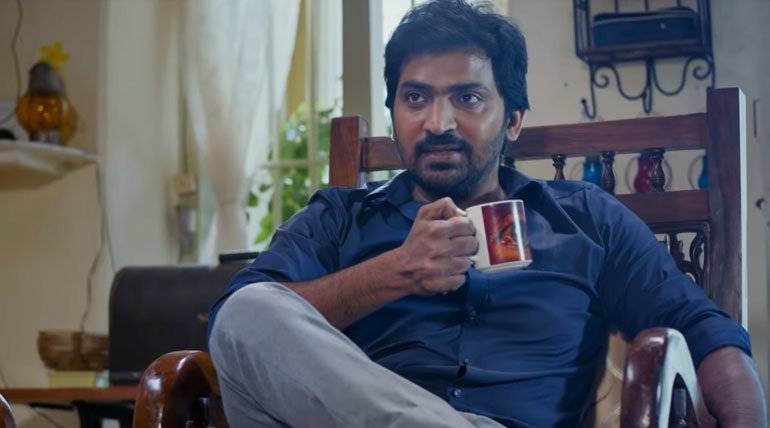 Sixer is a one-time watch for its comedy scenes without much logic.
Debutant director Chaachi relies more on Goundamani's lyrics and acting in Chinna Thambi movie for his Sixer. To this action, Goundamani issues notice to the Sixer producers R.Dinesh Kumar and Sridhar. Sixer is an average comedy entertainer for a one-time watch.
Vaibhav Sixer Movie storyline:
Vaibhav is a site engineer who returns home daily before 6 PM due to his nyctalopia condition or in other words night blindness. But on a particular day, he is late for home and caught in a protest. He meets the antagonist RNP Manohar, a local goon and the lead heroine there. And he is mistakenly taken as the leader of the protest by both of them. As usual, he falls in love with Pallav Lalvani, TV reporter and fights the antagonist.
Laughs in parts in Sixer:
Sixer aiming to make the audience laugh executes its task only in parts. The other scenes seem to be silly, and more than half an hour movie could have been easily cut off by the editor. Ghibran enjoying his double release today of Sahoo and Sixer has made the background music excellently in Sixer also.
Why do Goundamani issues notice to Sixer producers?
One of the best movies of Goundamani is Chinna Thambi, directed by P.Vasu. It was a runaway hit and broke many records in 1991. Goundamani acting as the comedian affected by night blindness with his many famous dialogues was one of the reasons for its big hit. Chachi must have enjoyed the movie too much, is what anyone can conclude after seeing Sixer.
He not only depends on Goundamani's illness but also his dialogues. It includes "Current bill na katnathe illada", "after 6 PM I will not come out, even if given one crore", among others. Goundamani has issued a legal notice to the Sixer's producers for portraying him wrongly in the movie. Vaibhav's character is that of the grandson of Goundamani, and also there are scenes of him worshipping his photo. It is also similar to that of Goundamani scolding his father for the cause of his night blindness in Chinna Thambi movie.
Sixer is sure a one-time watch with the family to have some fun and laughter without searching for much logic.