Sye Raa Narasimha Reddy Review: Unbeatable warrior of Uyyalawada
Vijayan Sankar (Author)
Published Date :

Oct 02, 2019 11:30 IST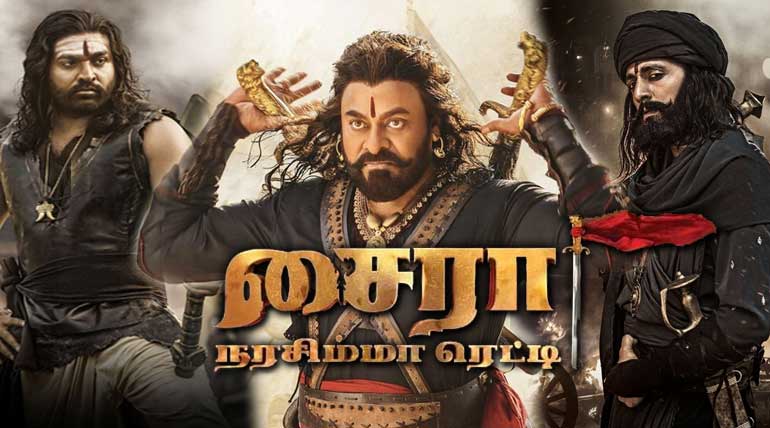 Chiranjeevi hits the bull's eye as Sye Raa Narasimha Reddy with its grandeur and star cast: Chiranjeevi as Sye Raa Narasimha Reddy has hit the bull's eye with its grandeur across India now. The epic movie is about the first freedom fighter of India uniting the other rulers to fight against the intruders British East India Company's atrocities against the Indian people.
Srinivas Reddy gave this strong story base a maximum grandeur it needed but failed to capitalize on the storyline. But with Chiranjeevi and the other strong star cast from all over India will sure give its due among Telugu people.
Galaxy of pan India star cast does justice to Sye Raa: Ram Charan when spending 270 crores for the movie relied more on the long list of star cast to bring back the heroic characters of the film. All the stars did justice to the movie, its producer and director.
Kamal Hassan narrates the introduction in Tamil while Mohanlal does it in Malayalam and Pavan Kalyan in Telugu.R.Rathinvelu's camera brings history well before our eyes, music though initially was to be scored by AR Rahman was now done satisfactorily by Amit Trivedi.
The storyline of Sye Raa: The story is based precisely 100 years before independence during 1847 when Narasimha Reddy fought the mighty East India company. It is considered as the first freedom struggle even before the sepoy movement or the Indian Rebellion in 1857.
This historical storyline is to be given in the typical Andhra massive canvas to appeal pan India audience. Though it falls short in bringing the significant happenings in an organized manner, it succeeds in the grandeur with the right star cast.
Stars performance in their roles in Sye Raa: Nayanthara plays the role of Siddamma, the wife of Narasimha Reddy, Tammanah plays the role of Laxmi, the dancer lover of Chiranjeevi. Amitab Bachman as the Sye Raa's Guru Gosayi Venkanna in a guest role, Sudeep and Vijay Sethupathi as other rulers who join in the fight with Narasimha do their parts well in the film.
But the movie which is based on real-time historical happenings is too long with nearly 3 hours of Showtime. It needs a lot of editing to make it short and crisp to the viewers. The Telugu people will well receive the fight scenes though unreal to pan India.
The grandeur of the movie with its national jingoism and the star cast will make it a sure hit among the Telugu people, but for the rest of India, it has to be seen in the coming days.