Tamilrockers Leaked Diwali Movies Bigil, Kaithi and Housefull 4 Movie Online
Vijayan Sankar (Author)
Published Date :

Oct 25, 2019 16:39 IST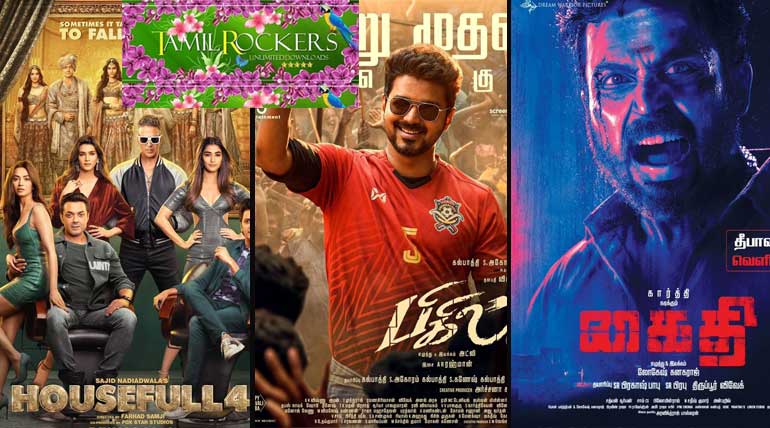 Tamilrockers leaked Diwali 2019 hit movies by shifting domains to avoid the ban on streaming them online: India is set to celebrate this Diwali with three excellent films of different genres. But Tamilrockers adopt unique strategies to release these movies online without interruption.
They follow their cunning technique of switching domains from one after another to avoid banning them from streaming online. Since these domains are operated from countries like Ireland, where rules are not stringent to take action against the domain owners, they can continue to stream Bigil, Kaithi, and also the hit movie in Hindi Housefull 4.
Bigil streaming online to shock its makers and fans: Bigil got a late evening reprieve from the hands of the state government to screen exclusive shows from today, early morning, 25th October morning. Vijay fans started celebrating Diwali on this news across Tamil Nadu. There are visuals from many places in Tamil Nadu where Thalapathy's fans were dancing and shouting with joy from yesterday night.
But to shock them, Tamilrockers started streaming movies from early morning. Already the producers are tired from releasing the film. Then came the exclusive show's issue which they solved only late last evening. But they came successful in all these issues but failed to stop the Tamilrockers who are on the rampage to cause massive loss to this high budget movie.
Kaithi seems to takeover Bigil in terms of quality: Comparison of Bigil and Kaithi is inevitable as both of them are released on the same day. But critics are more in favor of the intense, thrilling drama of Kaithi. The way Lokesh has taken the movie has stunned the audience with its action and emotional scenes. Hooking the audience to the screen for all the 147 minutes without heroin, songs, and comedy is a positive new approach which was handled excellently by Lokesh.
The climax seems to be the right mix of action, thriller, and emotion. It is like the Viswasam climax portraying the father-daughter love on the big screen. But Tamilrockers seems not allowing Tamil cinemas, which are now more focused on creating bonds between families.
Housefull 4 may not be housefull in Tamil Nadu: The much-hyped Housefull 4 is already lacking big stars except for Akshay Kumar. But the producers' profound producers, Sajid Nadiadwala, spent a lot of money to market the movie across India to make it a Diwali blockbuster. But they failed to note the presence of Tamilrockers in Tamil Nadu to release them online as soon as it as released in theaters.
Now the comedy film will miss the north Indian audience of Tamil Nadu in theaters to enjoy Diwali. Some may still opt to go the best way of enjoying Housefull 4 in theaters. But for many others, it will be comfortable and economical to watch it on their smartphones or laptops. It could affect the distributors of Housefull 4 not only in Tamil Nadu but all over India.
Technological supremacy over the dirty tricks of changing domains hosted from remote countries only could stop this Tamilrockers menace or tragedy to Indian cinema of releasing online all the hit movies, including this year's Diwali, hit movies.
&nbsp
Tags :&nbsp
Tamilrockers Leaked Housefull 4 movie
,
Tamilrockers Leaked Bigil Full Movie to watch online
,
Tamilrockers Leaked Kaithi Full Movie to watch online
,
Tamilrockers Leaked Kaithi movie
,
Tamilrockers Leaked Bigil movie
,
Tamilrockers Leaked Housefull 4 Full Movie to watch online
,
Tamilrockers October 2019
,
Tamilrockers Leaked Movies 2019
,
tamilrockers new domain
,
tamilrockers new url
,
Tamilrockers new movies 2019
,
tamilrockers new url 2019
,
Tamilrockers Leaked HD Prints Download for free Kaithi
,
Bigil and Housefull 4