Tamilrockers Leaked V1 Murder Case Thriller Movie Online
Vignesh Subbaian (Author)
Published Date :

Dec 27, 2019 17:31 IST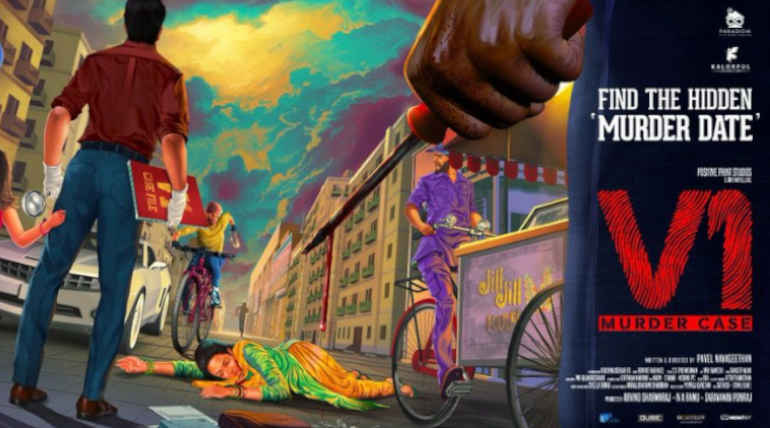 Tamilrockers leaked the V1 Murder Case movie online now: Murder mystery movie V1 Murder Case is now leaked online by Tamilrockers. Tamilrockers currently spoil the new attempt to solve murder crime with forensic angle done well by its director Pavel Navageethan.
Three producers joined together to make the movie, but Tamilrockers single-handedly have leaked them in many of their illegal sites. Someone should do a detailed forensic investigation of how they release all Indian and even Hollywood movies online as soon as they hit the big screens.
V1 Murder Case is a fantastic attempt by Pavel in the whodunit crime genre. Its producers Aravind Dharmaraj, N A Ramu, and Saravanan Ponraj, have invested a lot of money to make the movie. Though all the artists are newcomers, right from the protagonist role played by Ram Arun Castro, Vishnupriya Pillai as the female lead and the police officer along with Gayathri, Lijeesh, Mime Gopi and others have all done their part well in the film.
Ronnie Raphel has given the right music that a crime mystery movie requires without any shortfall or excess. Cinematographer TS Krishnasekar has shot the dark scenes well, as the lead role is affected by nyctophobia, which is an extreme fear of darkness.
Pavel of Vada Chennai's fame has made a promising attempt in directing the V1 Murder Case. He has placed some smart scenes to keep airtight suspense in most parts of the movie. Since the film revolves around many technical details of forensic investigation, there are small mistakes that could have been avoided.
Also, portraying some new concepts in the movie, he should have more concentrated on the ending to send the audience satisfied out of theaters. But still, the V1 Murder Case is a good attempt in the murder thriller genre for Tamil.
Tamilrockers do not mind about how the movie is or how it fares in the theaters. They do their illegal duty of leaking all films hitting the Tamil Nadu theaters immediately on their numerous websites. And they have done it again with V1 Murder Case movie also now.