Thala 60 Movie Shooting Starts Today with Pooja in the Evening
Gokul Saravanan (Author)
Published Date :

Oct 18, 2019 12:00 IST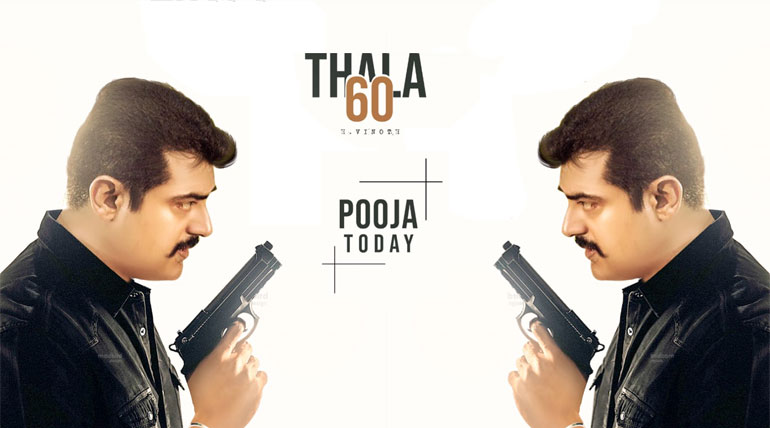 Obviously, Boney Kapoor produced Nerkonda Paarvai was a massive success, although it was a remake. By taking that success as a lead, Ajith Kumar and H.Vinod along wth Boney Kapoor glued their hands once again for another lap.
Twitter is already on fire as Nerkonda Paarvai's team has confirmed that the next movie of Ajith Kumar, Thala 60, is about to start officially by this Friday evening with pooja. Fans of the leading actor of the Kollywood are filling the feed pages of twitter with personal posts in the hashtag #THALA60PoojaDay.
Reports from sources confirm Nayanthara and Keerthi Suresh may take a female lead in Thala 60. Reports are also suggesting that this upcoming movie might be a cop story following the advocate role in Nerkonda Paarvai.
What about the Salt and Pepper Look?
Recently, Ajith Kumar was at Dr. Karni Singh shooting range New Delhi without the iconic Salt and Pepper look. And that was terrifying. This hints that he might have said goodbye to the wise man look in Thala 60.
What more can we expect from Thala 60?
Surprising information rolling everywhere about Thala 60. One among them is Jhanvi Kapoor, the daughter of Boney Kapoor, and the famous actress Sri Devi reportedly joined the crew.
Ajai Devgan has also been spotted with Bonny Kapoor in Chennai. However, there is no confirmed report about Ajai's contribution to Thala 60.
Yuvan has just landed to attend the pooja, a source confirmed. And, the presence of Yuvan has only escalated the curiosity about Thala 60.
Anika and Ajith Kumar's dad and daughter, the combo, can also be expected in this movie too.
A lot of bike and car chasing scenes, the most expected and loved, will be in Thala 60, another source said.
Keep tuned in as more update on Thala60 is ahead by this evening.