ads
Thalaivi Teaser: Hard to Digest, No One Can Replace Iron Lady
Chandra Raja Prabu (Author)
Published Date :

Nov 23, 2019 23:50 IST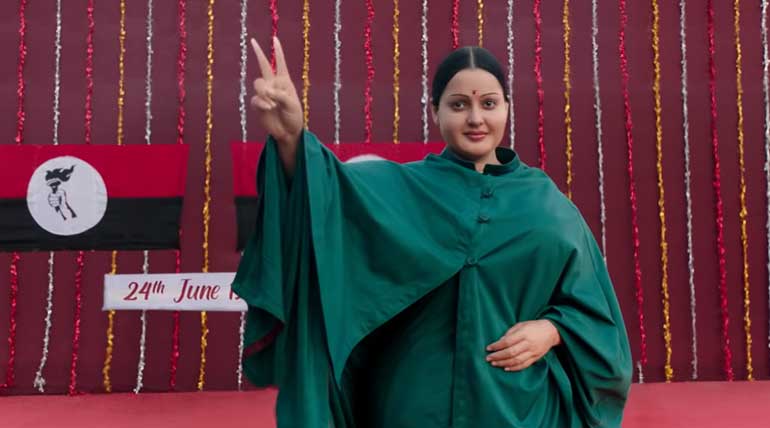 Thalaivi Teaser, Iron Lady Biopic - hard to digest with wrong model selection: Late Tamil Nadu CM J Jayalalitha is known as Iron Lady of Tamil Nadu, and people memorized as Amma in their heart and who got powerful management skills and ruled Tamil Nadu. It's hard to fill her space even in Biopic.
Teaser proves that the Thalaivi movie will be the 2020 worst Biopic movie by Director Vijay. In the end part of Thalaivi Teaser, Kangana Ranaut looks more like a showcase doll rolling with a lifted hand. No one can be a better model as the Iron Lady of Tamil Nadu, at least model selection should be even better. A great actress like Kangana Ranaut really not suites well Amma Biopic.
When Thalaivi's announcement came, expectations hiked right from day one, who gonna act and direct the Late Chief Minister of Tamilnadu J.Jayalaitha's biographical film came to an end with disaster teaser.
The production team revealed the first look poster of 'Thalaivi' movie today starring Bollywood actress Kangana Ranaut in the lead Biopic's character, the best unfit biopic model selection. Comparing to Mahanati movie, Biopic of Savitri - Keerthy Suresh resembles more like Savitri.
Thalaivi is an upcoming Tamil biographical movie directed by A.L.Vijay under the banner of Vibri Motion Pictures in association with Karma Media and Entertainment. The film is all set to release on June 26, 2020, in Tamil, Telugu and Hindi languages.
Selvi J.Jayalalitha is a renowned actor turned politician who also set a solid space in Tamilnadu before and after death. A film picturizing about the iron lady of Tamilnadu is quite difficult to satisfy the audience poll in the commercial world. However, the first look of Thalaivi does not recognize Amma J.Jayalalitha starring in Kangana Ranaut's poster, hoping less from the public's view.
Produced by Vishnu Vardhan Induri, Thalaivi is one to be told project, especially for Tamil audiences. The production team also released a short teaser of Thalaivi on Youtube, which moves like a time phase of Jayalalitha from her acting to political life. With the catchy line "A name you know and the life story you don't, "crack the revolutionary hero look of Thalaivi in the teaser.
Vishnu Vardhan Indhuri also produces on board 83 world cup story hoping to hit the silver screens with the real incidents of the era.