The Sky is Pink Review: Heart breaking Family Love
Vijayan Sankar (Author)
Published Date :

Oct 11, 2019 21:43 IST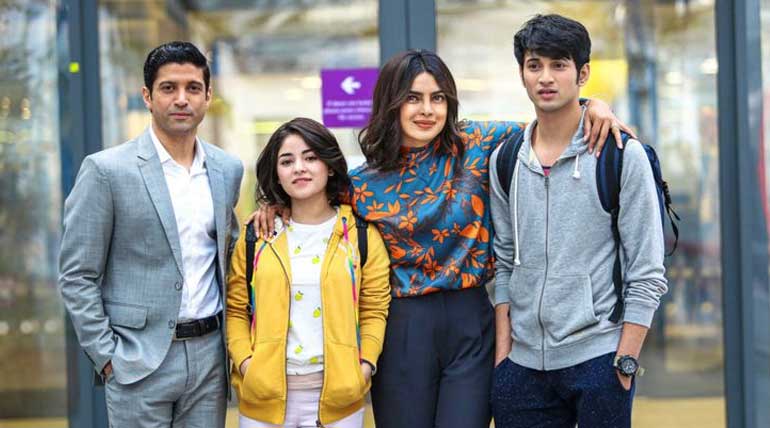 The Sky is Pink is a rare movie about life, love and death starring Priyanka Chopra: Priyanka Chopra Jones is back with The Sky is Pink as a mother of two teenagers. The movie is all about love, life, and death. It is sure not regular Priyanka Chopra movie for her fans. The story is a flashback biography told by teenager Aisha played by Zaira Wasim. But the sad part is she is saying it from her grave.
Shonali Bose director of The sky is pink does it again: Shonali Bose is the director who got many awards for her critically acclaimed 2014 movie Margarita With A Straw. She has now come back again with the right star cast for The Sky is Pink.
But both the film is based on ailing teenagers. But this time is a true story of Aisha, who died at the age of 18 due to pulmonary fibrosis.
But, the way the story revolves around her and the love of her parents and brother until her death is a treat to watch.
Hats off to Priyanka Chopra to act excellently as a mother of two teenagers: After millions of her fans much awaited Priyanka's movie after marriage to Nick Jones has hit the screens today.
But she dared to chose the character of the mother of two teens and acted excellently to bring in the real character before our eyes. It is a commendable performance by Priyanka as the mother of the ill-fated teen.
She also excels as the lovely wife and middle-aged family women. In one scene, she advices her son Ishaan in the movies played by Rohit Suresh Saraf, which justifies the movie title and a splendid scene.
His teacher reprimanded the young boy for painting the sky pink. To that, Priyanka, his mother, says that we must stick to our perspective towards life irrespective of other opinions and judgments.
The storyline of The sky is pink: It is a biography of a dead teenager Aisha from the grave in her voice. It starts from the time of her mother, knowing her to be conceived. But the husband character warns Aditi played by Priyanka to abort.
It is because the previous child was dead to SCID or severe combined immunodeficiency disease. But Aditi goes on to give birth to Aisha, and the whole story is about the love, struggle, and life of the family with the ill-fated child.
The movie ends with her death as a teenager. It is a good plot for excellent acting and directing skills in the movie. But the slow pace and occasional humor fail to uplift the sober mood of the film.
The sky is pink is sure the film for those who love life, love, and classic movies.