Friday Tamil movies Sneak Peek, Horror with Comedy and Action
Sivaranjani Soundararaj (Author)
Published Date :

Oct 09, 2019 14:44 IST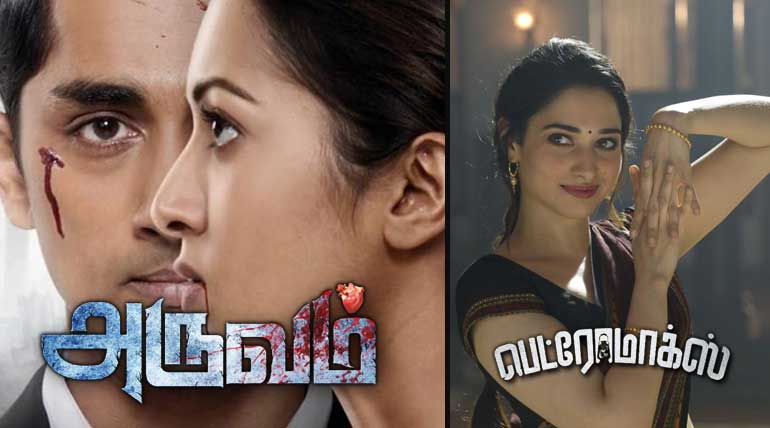 Tamannaah's Petromax sets the race with Siddharth's Aruvam- Intact Sneak Peek on October 11th.
Weekends entertainments are becoming a fashion with new movies every Friday. Aruvam and Petromax are on their marks to ride the race in silver screens by releasing on the same day. This weekend is a package of horror-comedy and social message stories to relax the Tamil audience in cinemas.
Petromax Sneak Peek:
Petromax is a horror-comedy movie starring Tamannah Bhatia. The Petromax story revolves around the difficulties in selling a haunted house in a village by an old man; He arranges four people to live in the house for a few days to make the belief of no ghosts in the house.
Petromax Sneak Peek in Moviebuff is intriguing and triggers the audience to propel for theatres on Friday. The teaser, trailer, sneak peek launching before a movie release is quiet welcoming amongst the audience. Those are the decision-makers to view a film in theatres, possibly.
Petromax scene portraying the presence of ghosts by clapping the sound of a small girl makes a response without a flash; Tamannaah rages herself with the performance in Petromax flawlessly as a panic stimulant. Petromax by Rohin Venkatesan surely lightens the crew with its dark horror comedy sounded by Ghibran Garu.
Aruvam Sneak Peek:
The social message man Siddharth is on board after Sivappu Manjal Pachchai's green signal in theatres. Aruvam is a social thriller drama starring Siddharth, Catherine Tresa, and directed by Sai Shekar under the banner of Trident Arts.
Siddharth Narayan plays the role of Jagannathan, Food Safety Department's Assistant Commissioner. Aruvam movie sneak peek sealed the food contaminants of the city with authority. Catherine Tresa plays the character of the teacher without smelling sense is quite bizarre in Aruvam and has the connection of food contamination with her sense abnormality.
Whether food contamination stops or the seal persists in the city is the epic of Aruvam. Let us unseal the food safety commissioner's further proceedings on October 11th, 2019 in theatres.
The house ghosts and the public contaminant ghosts are ready for the haunting action in the house and food in silver screens this Friday.