Vanitha as Wildcard Contestant or Hotel Guest - Hotstar App Status Confusion
Anusha Sathish (Author)
Published Date :

Aug 14, 2019 14:25 IST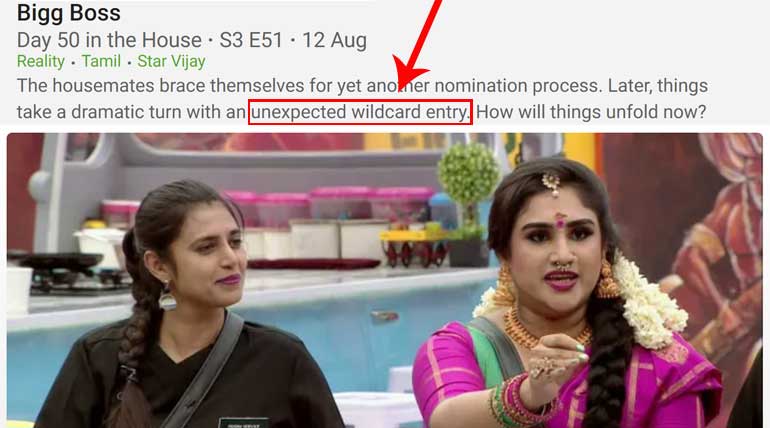 Is Vanitha a wild card entry?
Bigg Boss Tamil season 3 flared up with Vanitha's re-entry into the house. Kasthuri has entered the house in the wild card slot, and things were going smooth. Not much controversies crept in along with her. As one of the tasks, Bigg Boss house has become a hotel, and the inmates are assigned different executive roles in the hotel.
Amid this, there was a sudden thunderous entry, and everyone was waiting for the surprise to be revealed. It was Vanitha who entered the house as a guest. Everyone welcomed her with great cheers and Cheran showed his welcome by garlanding her. One of the most controversial contestants re-entered the Bigg Boss house, but this time as a guest.
Do you think Vanitha-filled place can be quiet? Yes, it is not. The trigger was on pulling Mugen and Abirami at the centre stage. Vanitha was continuously criticizing Abirami from the beginning that she cries a lot often for trivial things. Yesterday it was a like Abirami-Mugen gathering, and everyone discussed about their relationship in the forum. Vanitha flared up the discussion as much as she can, and all the housemates were dancing to Vanitha's tunes as if they were waiting for the chance.
Cheran and Madhumitha were the highlighted ones to talk about their relationship in an otherwise manner. Of course, Tharshan too opined at times about their relationship. Cheran stated, "Mugen from your end, you are not supposed to encourage her jumping on your back and playing," for which Mugen stated, "I informed her personally not to do. But she does not seem to care. I have not disclosed my oddity, and that had created this problem."
Madhu's attitude is changing after she received a call from the Frooti caller of the week last time. Of course, she does have public support, but that does not mean the public has given rights to enter into the privacy zone of others. Vanitha was too harsh in handling this tender issue, and finally, Mugen trashed Abirami by reacting provoked lifting the chair. Mugen's behaviour literally tossed Abirami.
All the housemates made them bid adieu to their relationship. Finally, Abirami proved his generosity by asking apology to Mugen. From the public point of view, Abi seems loyal, and Mugen does not deserve the same. But things cannot be judged in BB3 easily. Let us wait for this task to get over to first get to know whether Vanitha is a guest or a wild card entry!!!