Vanitha completes her mission of maligning Sherin image successfully
Vijayan Sankar (Author)
Published Date :

Oct 03, 2019 18:28 IST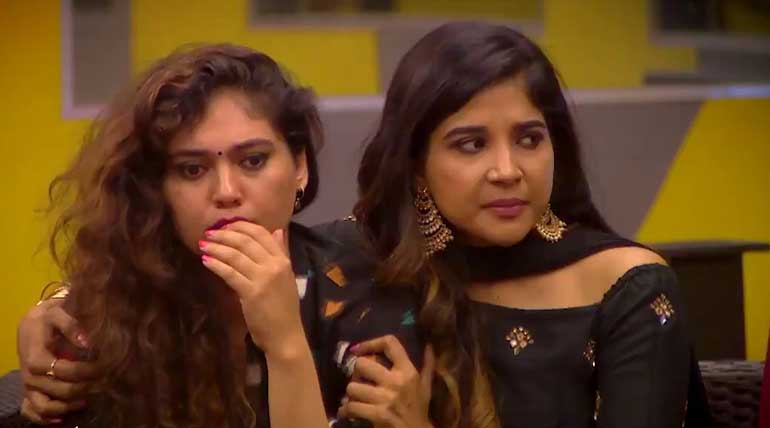 Vanitha back in the big boss house and completes her mission of maligning Sherin's image successfully: The big boss Tamil show is nearing its climax, and yesterday, the 101 days became one of its most controversial days. For the past two weeks without Vanitha, the house was calm, and many times happy also.
But when yesterday, the other controversial character Meera Mithun came, she created a stir with leaked audio. Now, Vanitha is back and does her best once again to create chaos in the big boss 3 house as wanted by the big boss organizers.
Is the mission Vanitha competed in big boss 3 Tamil show yesterday? Big boss organizers to keep the last days of big boss 3 seasons hot, bring the old contestants every day. If it was Meera, Vaidya, and Fathima on 1st October, and yesterday in came Vanitha for the third time.
She, along with Cheran, Sakshi, Kasthuri, and Abiraami, came into the big boss 3 house again. Not only the contestants but also the audiences were eagerly waiting for the controversy to start.
It was only late evening for Vanitha to start the controversy of Tharshan's eviction. She squarely blamed Sherin for it. And the war of words stared between the contestants much to the glee of the organizers.
Why is Vanitha blaming Sherin for Tharshan's exit? Vanitha is the first person to highlight the love flirting of Tharshan and Sherin. But the word "affair" used by her for their relationship was not acceptable to anyone and caused her eviction for the second time.
Now, coming back again, she is only justifying her said contention. At this, everyone in the big boss 3 house got irritated and left Vanitha alone to keep shouting. She did not even allow Cheran who came in front to solve the issue.
Big boss organizers trying to justify Tharshan's eviction by Vanitha yesterday is not over yet. It will continue tomorrow also and even until Friday. It could make the climax of big boss 3 show on 6th October a fabulous entertainment.