Vikram (2022) Full Movie Review: Trio Action With Connection To Kaithi
Sophia Loren (Author)
Published Date :

Jun 03, 2022 10:26 IST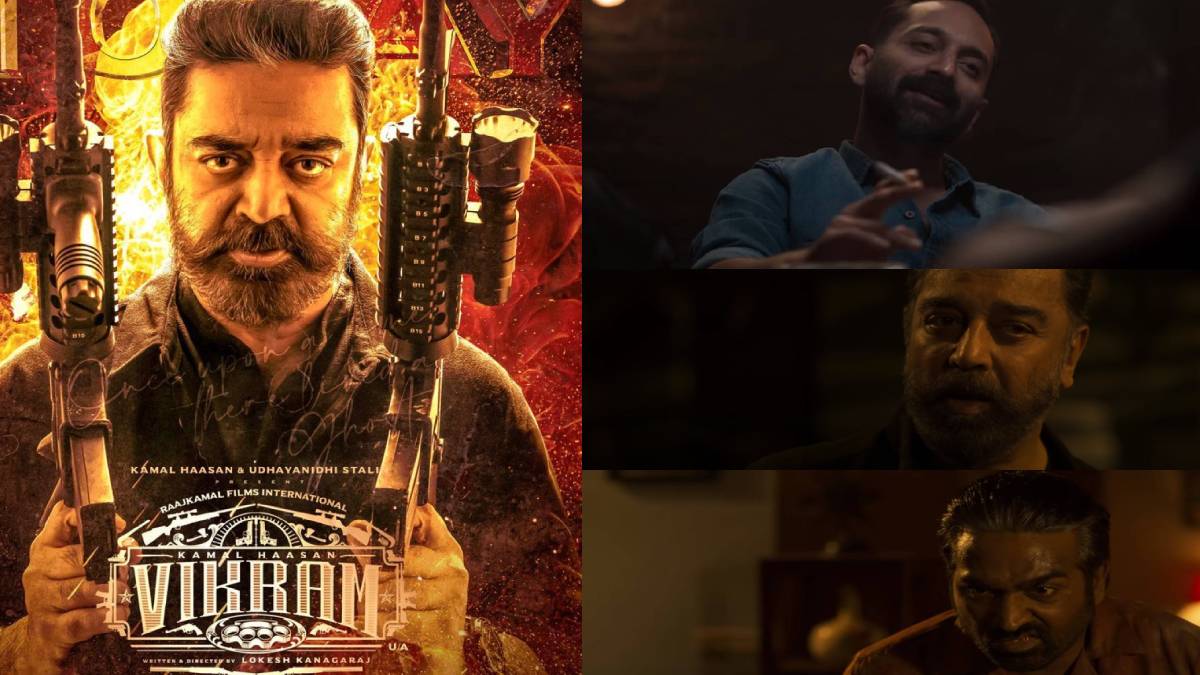 After four long years, the most awaited movie Vikram from Kamal Haasan, directed by Lokesh Kanagaraj, has been released in theatres. And now the fans roar 'Andavar' as the movie is well received by the audience. The trio of Fahadh Faasil, Vijay Sethupathi and Kamal Haasan has well worked out on the big screen.
Let us get into the story of the Vikram Movie. Kamal's adopted son Kalidas Jayaram is a policeman. He is recovering crores of rupees worth of drugs from drug trafficking gangs. A masked mob then kills Kalidasa. The masked mob then kills some policemen. Kamal also pretends to be murdered by the mob.
Police are deploying Fahadh Faasil, a secret agent, to find the masked gang. Fahadh Faasil gets a lot of startling information while investigating this series of murders. The twist awaits Fahadh Faasil only when the masked gang gets deep into the investigations on the death of Policemen and Kamal Haasan.
Did Fahadh Faasil finally find out who that masked gang was? What was the reason behind the murder? What is the role of Kamal Haasan in finding the masked gang? Are the other part of the story. Vikram's interval scene has transformed Tamil cinema into an international cinema.
Vikram (2022) Tamil full movie links with Karthi's Kaithi movie, directed by Lokesh Kanagaraj. A few characters and concepts are relatable to Vikram's movie in core scenes. Vikram's movie will be understood in-depth if watched after watching the Kaithi movie.
Vikram is a commercial action thriller movie that will cover all the audiences. It is guaranteed to attract an audience as the output has come out well. All the characters are well written in-depth as there are no flaws in any artist's role. Fahadh Faasil, Vijay Sethupathi and Kamal Haasan have given equal importance throughout the movie. Actor Suriya's cameo appearance in the climax is an additional key positive to this Vikram film.
Although the movie runs for 2 hours 26 minutes, there seems to be no lag till the end. Aerith's music is one of the major backbone of this movie. He has given the needed music to needed scenes. There are many goosebump scenes with the stunning background scoring of Anirudh. The cinematography of Girish Gangadharan is well exhibited with the edit of Philomin Raj. The visuals must receive goods credits.
The Vikram movie stars Vijay Sethupathi as the Kamal Haasan, Vijay Sethupathi, Fahadh Faasil, Narain, Arjun Das, Harish Uthaman, Kalidas Jayaram and Suriya ain cameo role and many more in the lead roles.
Watch Vikram Full movie in theatres from today. Since there is no adult content, the movie can be enjoyed with family. This Vikram movie is going to increase credits for Fahadh Faasil, Vijay Sethupathi and Kamal Haasan. The fans are screaming "Andavar" in theatres.