Vishal issued a non-bailable warrant by Egmore Court today
Vijayan Sankar (Author)
Published Date :

Aug 02, 2019 20:11 IST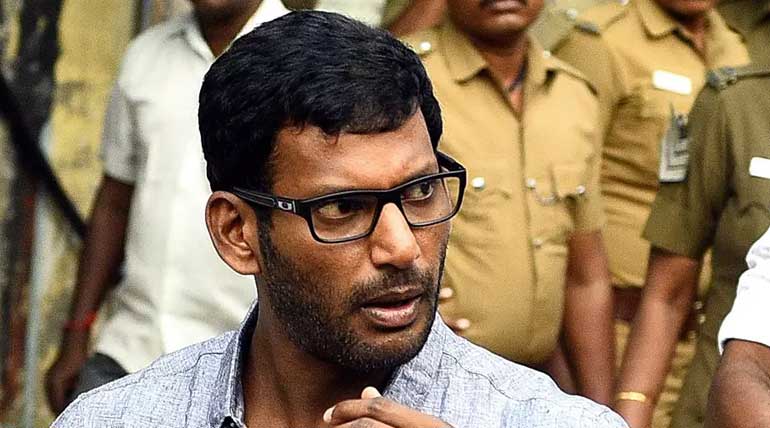 Vishal issued a non-bailable warrant by Egmore Court today.
Vishal issued a non-bailable warrant by the Egmore court today for not remitting the TDS amount of his employees in Vishal Film Factory. He is accused of not paying them for the past five years. Vishal's advocate pleaded time as they received no notice. But opposing it and for non-appearance of Vishal in court today, this warrant has been issued.
Did Vishal commit any serious crime for such a warrant today?
Vishal is a busy actor and in other responsible posts being issued a non-bailable warrant is an extraordinary event. Many will think that he has committed some serious crime or something like that. That is the image that someone wants to put on him. But in reality, it was nothing but a simple TDS remittance of his employees with the Income Tax department. It could be a clerical error which can be easily rectified. And Vishal is not a petty actor to run away from paying that small amount.
What happened in court today for such a warrant?
Vishal did not receive the notice of the Income Tax is the contention of his advocate. Since he was asked to appear in person today, his advocate asked time because of non-issuance of notice. But the Income Tax authorities were adamant that non-bailable warrant issued today itself. And the Egmore court judge issued the warrant brushing aside the contention of Vishal's advocate.
What is the course of Vishal's next action?
Today being a Friday, Vishal cannot approach the court tomorrow to surrender and revoke the warrant. He has to wait until Monday to do that. For getting a stay from the High Court also is possible only from Monday. Hence it is anybody's guess what will happen today, tomorrow, and a day after tomorrow till Monday.
Vishal during the Mersal issue gave a statement supporting Vijay and the next day his Vishal Film Factory office was raided by the IT department and was said it was a routine one. But now the routine raid by IT has shown its actions. Only recently Coffee Day owner has said about the harassment of IT. Now it is the turn of Vishal.
Normally in such kind of cases, the court will give time for looking into the issue of non-serving of notice or will give more time. But, it is not to be in the case of Vishal. He has paid the TDS or not only will come out if the case is taken up in court. But before that non-bailable is worrying all those who hear the news. What Vishal will do to come out of the issue is to be seen in the next few days.