Laabam Movie Review: Watch Laabam Tamil Full Movie On Theatre
Sophia Loren (Author)
Published Date :

Sep 09, 2021 15:36 IST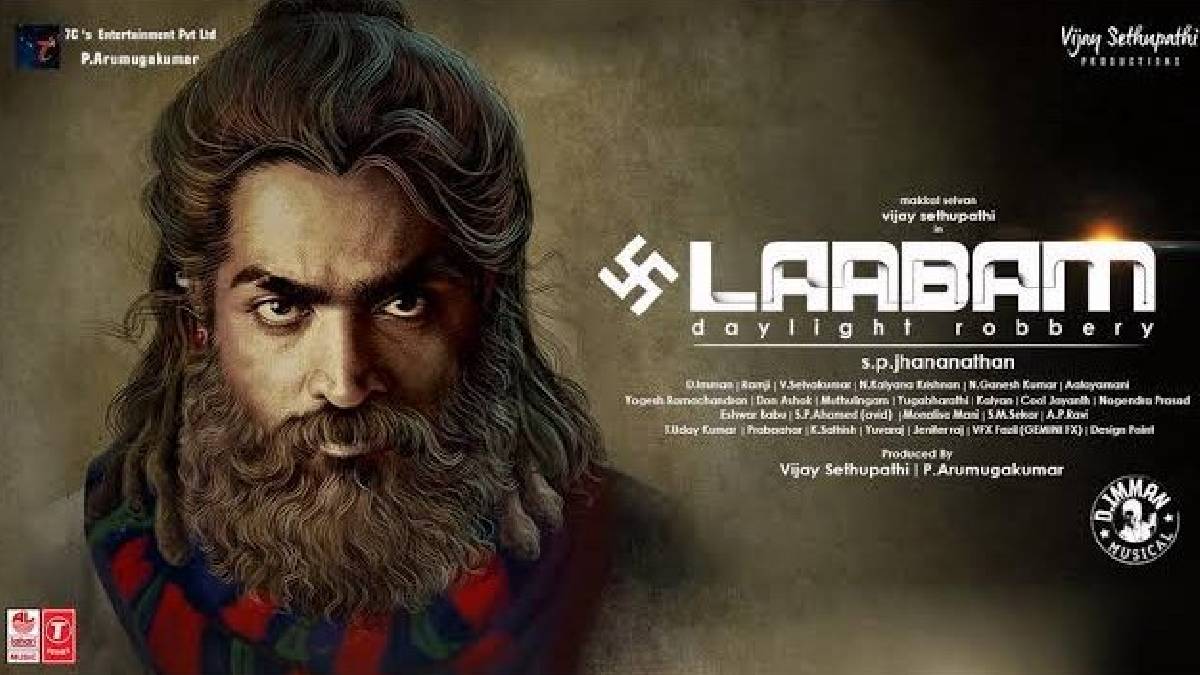 Director S P Jananathan's Laabam movie is released today, and the review flows with different perceptions. The film conveys the importance of farming and how profit can be yielded. It projects how nature can be made as to money. The hardest part is to watch the film in the absence of the director S P Jananathan.
Laabam is a film directed by the late director S P Jananathan starring Vijay Sethupathi and Sruthi Haasan. Vijay Sethupathi, a nomad, returns to his home village in search of agricultural knowledge. He later tells people how to yield profit through farming and starts collective agriculture.
Vijay Sethupathi takes the responsibility in the Agriculture union to help people for gaining profit. On the other hand, the agricultural union's higher officials are already conspiring evil against Vijay Sethupathi. This is the moment where the action sequences begin. Vijay Sethupathi successfully runs the collective farming project to prevent these conspiracies and make a profit for the people.
Director SP Jananathan forwarded to explain the need for an agricultural economy. Laabam film conveys in detail the basic principle of agriculture and its importance. Although the propaganda on agriculture is insisted, the film feels dry to a particular extent.
The film shoots the view of agriculture and politics in a single frame. But it can be entertained only to a manageable scene, but after that, the film droops. The film keeps dragging with dialogues portraying politics and agriculture. This can be seen in both positive and negative ways.
The dialogues are intense throughout the film. It makes the viewers think beyond the box. The first half of the film is dragging, but the second half moves swiftly. The positives of the film are only the content. The speciality of the film is its S P Jananathan's direction starring Vijay Sethupathi.
When it comes to negatives, the film has no continuity, and there comes lag in the plot. It makes the viewers feel that it could have been portrayed in a better way. The characterisation is very less compared to the other films of SP Jananathan. Even Vijay Sethupathi's has not been deeply written. Many unnecessary characters could have been avoided in the film. When it comes to Shrithi Haasan, her role doesn't play any importance. It has been presented like she is portrayed just for the need of an actress.
Cinematography is the major positive of the film Laabam. Ramji has given his best in all the shots with the editing of N. Ganesh Kumar, and S.P. Ahamed D. Imman beautifully handles the music. The production companies are Vijay Sethupathhi Productions and 7Cs Entertainment Pvt Ltd.
Watch Laabam full movie with the family. Since there is no adult content, the film can be enjoyed watching family. Laabam movie is released in theatres today. Actor Vijay Sethupathi's upcoming films are Annabelle Sethupathi, Tughlaq Durbar, and Kadaisi Vivasayi, which are in the row to be released soon.
| | |
| --- | --- |
| Director | S. P. Jananathan |
| Screenplay | Aalayamani |
| Actor | Vijay Sethupathi |
| Actresses | Shruti Haasan |
| Cinematography | Ramji |
| Music | D. Imman |
| Production | Vijay Sethupathhi Productions, 7Cs Entertainment Pvt Ltd |