Kavin Fans Trending in India Level Twitter #WeStandForKavin
Vignesh Subbaian (Author)
Published Date :

Aug 30, 2019 21:32 IST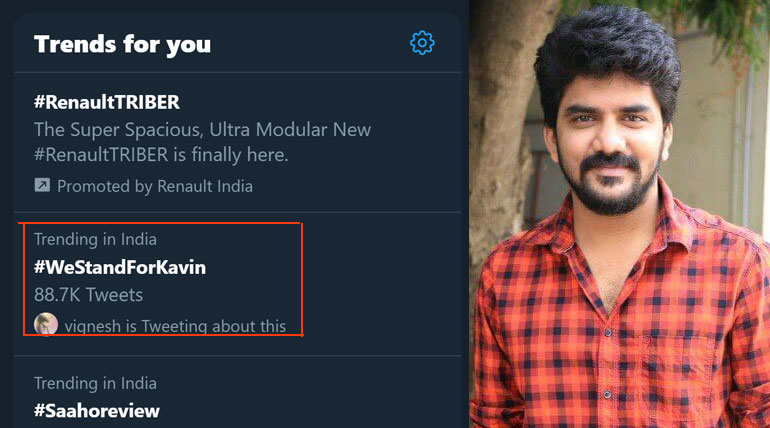 #WeStandForKavin
In last 2 Bigg Boss Tamil shows after Oviya only Kavin got such fans, crowd. All his fans now not thinking about winning the Bigg boss show, they want Kavin's family to be safer. Now it's Trending on Twitter in top Level "India Trends".
Kavin is not just Bigg Boss Contestants, who already won millions of hearts during Saravanan Meenakshi Serial in Vijay Tv. As everyone's words, Hard work never fails, Kavin promoted as Hero "Natpuna Ennanu Theriyuma" Movie acted with one of fav heroine Remya Nambeesan.
As like the movie title he acted as Hero. Kavin also expressed his real character inside Bigg Boss Tamil House. Kavin stood for his friends at whatever situation. Standing for Freinds character, Tamil Nadu people whoever watching Bigg Boss Tamil show already felt about it.
This helping is a real character about Kavin. Kavin expressed his family situation in "Family Task" to everyone in Bigg boss house. The fact was their family got cheated from trusted people, and due to that, they faced lots of problems.
Everyone knows Bigg Boss reality shows brings out real characters of each contestant, that's what happened for Kavin too. Being such a beautiful kind-hearted human's family may not be cheated with others.
Kavin grown up with their family members and we can even understand the beautiful characters of their family raising such kid in a positive attitude.
Their family case was going on nearly 12 years, and Kavin was struggling to return those people money from his earnings, which everyone in the Film industry knows about it.
All these years, Kavin was repaying their funds as much as he can in an honest way. Kavin never felt about cheating someone, but he repaid from his earning to save his family name. Now he is out of family and unable to reach their parents. If Kavin not as contestants in Bigg Boss, definitely he will manage the situation by paying them.
Kavin's participation in Bigg boss show not for the fame or to act again in Hero. Kavin desperately wants to save his family name and planned to repay everyone with the earnings from Bigg Boss Show.
When he thinks his family is safer outside and he will come back to repay all the dues, but the situation is not as he thinks. What if Kavin comes out of Bigg boss show and knows about the situation.
Without knowing the other side of their court case, no one can blame. Kavins fans show their love in a digital way to make every Indian know about his situation.
Actor @rio_raj about our Kavin 😎
He's a real hard working and most deserving person to taste lots of success in his career
👏👏👏👏👏👏👏👏👏👏👏👏#WeStandForKavin pic.twitter.com/6V6v5xja9T

— Kavin😍KaviRajan (@kavin_kavliya) August 30, 2019