Who Will Host Bigg Boss Ultimate As Kamal Haasan Quits The Show?
Sophia Loren (Author)
Published Date :

Feb 21, 2022 10:12 IST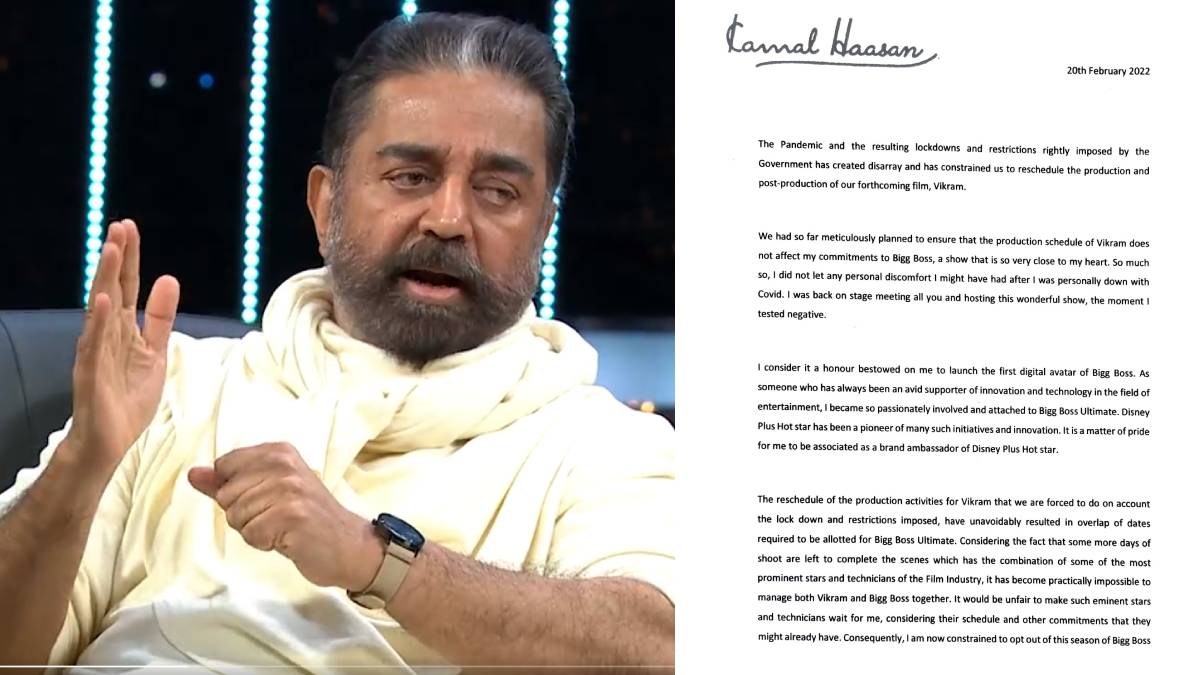 It was a great shock to the Bigg Boss viewers after hearing that Actor Kamal Haasan is taking a break from Bigg Boss Ultimate and will meet his fans in Bigg Boss Season 6. This has brought curiosity to know who will host the show Bigg Boss Ultimate Show next.
Bigg Boss Ultimate is running successfully with the presence of interesting characters. There is no end to fights and disagreements in the show. Since Bigg Boss Ultimate is projected 24X7 in Disney plus Hotstar, the viewers experience a different feel while watching the show. The live telecast projects everything that has been happening.
The weekend episodes are even more exciting because of the appearance of actor Kamal Haasan. His questions against the housemates will be direct, and the shots will be heavy. In the recent episode, Vanitha was roasted for her talks and behaviour to the housemates being a captain.
Now the sad news for the Bigg Boss viewers has popped as the actor and host of Bigg BossUltiate Kamla Haasan is quitting from the show. This is officially announced, and Actor Kamal Haasan has tweeted about this on his social media page.
He tweeted, "The pandemic and the resulting lockdowns and restrictions rightly imposed by the government has created disarray and has constrained us to reschedule the production and the post-production of our forthcoming film 'Vikram'.
"We had so far meticulously planned to ensure that the production schedule of 'Vikram' does not affect my commitments to Bigg Boss, a show that is very close to my heart. So much so I did not let any personal discomfort I might have had after I was personally down with Covid. I was back on stage meeting all of you and hosting their wonderful show the moment I tested negative.
The rescheduling of the production activities for Vikram that were forced on account of lockdowns and restrictions imposed have unavoidably resulted in an overlap of dates required to be allotted for Bigg Boss Ultimate.
I consider it an honour bestowed on me to launch the first digital avatar of Bigg Boss. As someone who has always been an avid supporter of innovation and technology in the field of entertainment. I became so passionately involved and attached to Bigg Boss Ultimate. Disney Plus Hot Star has been a pioneer of many such initiatives and innovations. It is a matter of pride for me to be associated as a brand ambassador of Disney Plus Hotstar.
Considering the fact that some more days of the shoot are left to complete the scenes which have the combination of some of the most prominent stars and technicians of the film industry, it has become practically impossible to manage both 'Vikram ' and 'Bigg Boss' together.
It would be unfair to make such eminent stars and technicians wait for me, considering their schedules and other commitments. Consequently, I am now constrained to opt-out of this season of Bigg Boss Ultimate after February 20."
The actor also said, " I had a free and fair discussion with the management of Vijay TV, and as always, the management has been most supportive and cooperative. I am overwhelmed and touched by their understanding on the constraints resulting out of this pandemic and consequent restrictions forcing me to exit from the remaining episodes of Bigg Boss Ultimate. Till I meet you again in Season 6 of Bigg Boss, my best wishes to you all."
After this official update, it has now become a big question mark on who will host the Bigg Boss ultimate show next. Most of the viewers guess it comes on actress Ramya Krishnan as she was hosting the Bigg Boss Tamil Season 5 show when actor Kamal Haasan was tested positive for COVID 19.
But there were many negatives for her hosting, and the viewers found Ramya Krishnan to be partial to the housemates. It is also said that actor Simbu will be the next host for Bigg Boss Let us wait for the week to know who will host the Bigg Boss Ultimate.
ஒரு சிறிய இடைவேளைக்குப் பிறகு.

After a short break. pic.twitter.com/NfbUMz1GjY

— Kamal Haasan (@ikamalhaasan) February 20, 2022