Why There Is No Camera In Dressing Room? Bigg Boss Tamil 5 October 26
Vignesh Subbaian (Author)
Published Date :

Oct 26, 2021 23:18 IST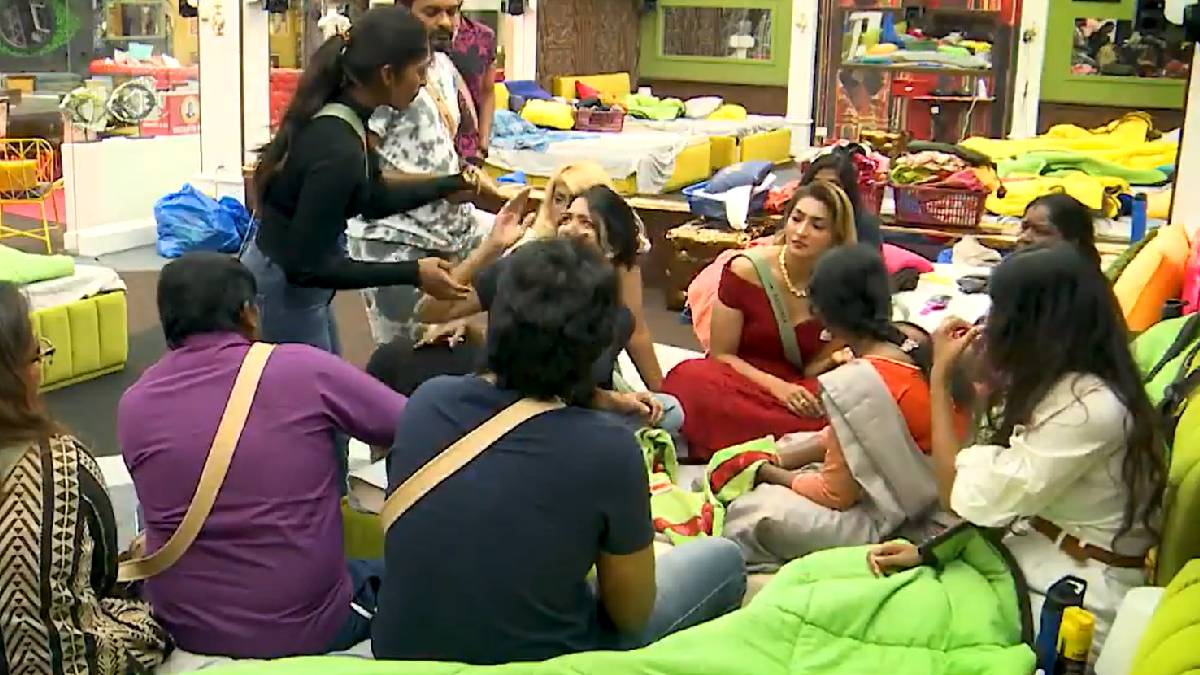 The third nomination inside the Bigg Boss house was completed successfully yesterday, and the Panchathandiram task is still creating mess and fights among the housemates. Raju comes with another thoughtful question to Suruthi.
The Bigg Boss Tamil 5 contestants nominated for this eviction are Chinna ponnu, Akshara Reddy, Suruthi, Pavni Reddy, Isaivani, Abinay, Imman, Varun and Priyanka. On Sunday, Abishek Raaja, who gave sufficient content for the promo and show, got eliminated, which was heartbreaking for the housemates and the meme creators.
Abishek Raaja uploaded a post after his eviction from Bigg Boss Tamil 5 in which support and arguments flowed from the second it was posted. Following that, there broke a clash between Suruthi and Thamaraiselvi today for taking away the coin.
Today's show began with a discussion between Pavni and Suruthi to take the coin. Pavni helped Suruthi to divert Thamarai Selvi, and meanwhile, Suruthi took the coin. Thamarai came to know that the coin was taken away by Suruthi. She was hurt but not for a reason she took the coin but for the situation.
Pavni was inside the dressing room with Thamarai Selvi. When Samaria was drapping her saree, Suruthi took the coin. That is where the problem began. Thamarai Selvi came out of the bathroom and took the other housemates about the incident. Raju, Iykki, Imman, Ciby, Priyanka came straight to the bathroom and questioned about the coin to Suruthi and Pavni.
Raju tried to make them both understand that the dressing room is not the place to take the coin, but Pavni was giving back answers. Raju made a statement clear just by asking one question "Why there is no camera inside the dressing room?"
Thamarai broke down in both tears and anger. She was continuously told that she wanted to go home. Suruthi tried to talk to her, but she was not ready. Thamarai Selvi was accusing Pavni and Suruthi repeatedly. Suruthi and Pavni took the coin just by thinking from the perspective of the game, but it got twists and turns.
When the discussion was brought in front of all the housemates, Thamarai Selvi's explanation was a bit disturbed because she projected the happening in a different way as it targets indecency. This hurts both Suruthia and Pavni. Thamarai Selvi did not listen to Surithi's explanation; she was only accusing.
Pavni told Niroop and the other housemates who supported Pavni that they knew manners. SuruthI and Mathumitha had a discussion at the dining table even at that, Suruthi cried. The later Luxury budget task was announced with an exciting drama. Imman Annachidressed likes a stylish young hero who was lovely to watch.
The Bigg Boss 5 is now getting interesting to watch. Let us wait and see what more happened by the Pachathandiram game. The task is keeping the show more lively and active. Raju, Priyanka, Ciby and Priyanka questions with valid points in the fight between Suruthu, Pavni and Thamarai Selvi.