Will Losliya and Kavin Affection Continue till the End of Bigg Boss 3 Tamil Show
Vijayan Sankar (Author)
Published Date :

Sep 20, 2019 10:15 IST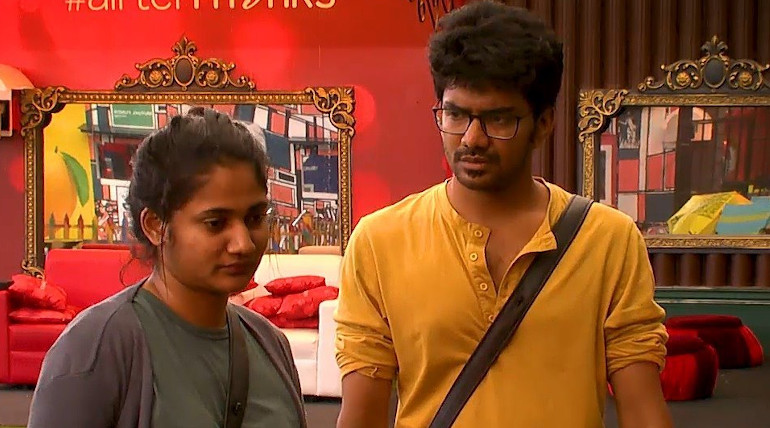 Will Losliya – Kavin affection continue till the end of Bigg Boss 3 Tamil show? During the 88th day yesterday in Big Boss 3 Tamil show, one thing was sure and set to continue for the remaining 12 days, is that of Losliya and Kavin affection. The two, supporting and not letting down each other even during this cut-throat last days is a fantastic humanity scene to watch on TV. But is it correct for the game show debate continues even yesterday with Sherin complaining to Big Boss about it. But the big question for the millions of Bigg Boss 3 Tamil show audience is, will it continue for the remaining crucial big boss days, that too, with the big bounty of 50 lakhs and pride of winning it.
Kavin – Losliya affection continues unabated after several issues
Bigg Boss 3 Tamil show revolved in the last 88 days around Vanitha and Kavin and Losliya affection. They were its main TRP supporting factors. With Vanitha now out of the show once again, it is this affection getting up heated back in the last days of Bigg Boss 3 show. It has seen many events to stop them including
Vanitha with all her might tried to polarize their issue and was sent twice out of the house while Kavin and Losliya still in it

Sakshi played her level best even during her guest entry but only to be sent back with humiliation and defeat

Madhumitha exploited Kavin about using the girls in the show and is now become a critic of Bigg boss 3 house in the media

Kamal warning Losliya and Kavin, directly and indirectly, to play the game rather than indulging in sentiment issues

Losliya's father was an angry man during his visit to the Bigg Boss 3 Tamil house. He and his family advised Losliya to a great extent of stopping her activities with Kavin

His friend and family caretaker slapped Kavin to the glare of millions of Tamil people for his actions with Losliya

If there is one person, who could need the most of the Bigg Boss 3 Tamil house bounty prize of INR 50 lakhs, is none other than Kavin for his family problems
All this is not stopping these two from continuing their care and affection of each other. The 88th-day happenings are one more example of that. Kavin is consoling Losliya and inquiring her of any bruises due to her fall in the task. Losliya, in an affectionate way, is asking Kavin to stop pursuing the Sherin issue. All of it is a beautiful human act or more to watch on TV. But will it continue till the end is the big question now for the millions of Bigg Boss 3 Tamil show audience?