Flesh-Eating Bacterial Disease: Thumb lost after the manicure by a Tennessee woman
Sivaranjani Soundararaj (Author)
Published Date :

Sep 26, 2019 19:01 IST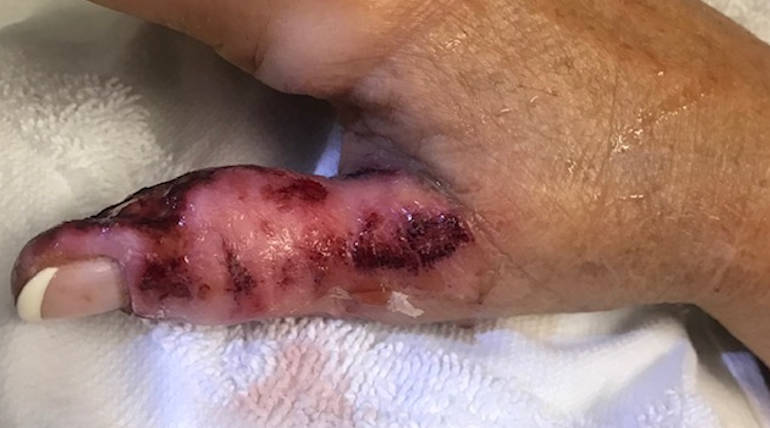 Thumb lost after the manicure by a Tennessee woman due to Flesh-Eating bacterial disease.
Knoxville, Tennessee: A manicure turned into a life-threatening sentence for a woman in Tennessee. Doesn't it feel shocking to hear? Yes, but the beauty brought nightmares to this woman's life.
What exactly happened to Jayne sharp?
Jayne sharp of Knoxville went to a nail salon in Tennessee for a manicure. She got some small cut in her thumb during the manicure. But she ignored it by thinking just a nick irritation. Right after two hours of manicure, she found her thumb was swelling and throbbing. It may be due to some flu-infection Sharp thought initially.
Sharp's daughter Nikki Brown, who is a registered nurse of Summit Medical group analyzed the swelling with a marker. The nurse practitioner woked up Sharp to diagnose the swell rate and immediately adviced her to go to the hospital.
The doctor diagnosed Sharp with a flesh-eating bacterial disease called Necrotizing fasciitis. Therapists warned that she would have lost her life if she delayed.
Jayne shocked 'Am I Losing life for a manicure?' and filed a complaint against Jazzy Nail Salon in Tennesse. The state declared that nail salon passed the inspections.
Necrotizing Fasciitis-Flesh eater
"Don't ignore small cuts or burns! You neglect, we occupy." -Flesh-eating bacteria. Seems like kidding, but a must-know factor. Flesh-eating bacteria enters the body through dead tissue, an open wound or uncared cuts or burns. Flesh eater spreads fast like a roller coaster. This bacterial disease mainly affects limbs and perineum.
Symptoms of Necrotizing fasciitis:
Red/Purple streak
vomiting
throbbing
swelling
fever etc
If not treated with care, bacterial infection leads to amputations or even death.
Jayne sharp's second life
Jayne sharp after several surgeries in Knoxville and Nashville's Tristar Centennial Medical Center is normal after many months with her second life. Sharp feels her fingers are still numb after surgeries.
More on the list, Florida Cancer fighter man lost his life due to flesh-eating bacterial infection. His daughter confirmed the bug of Vibrio vulnificus, an invader of Necrotizing fasciitis.
Precautions for Necrotizing Fasciitis
Proper wound care and frequent washing of hands, legs can reduce the risk of danger. Never delay treating infection and removal of infectious tissue can save a life. Sharp's breathtaking life is a living lesson for every one of us to take care of minute activities in health or whatever.