Athi Varadar Vaibhavam: Green Silk Attire Today
Anusha Sathish (Author)
Published Date :

Jul 15, 2019 15:56 IST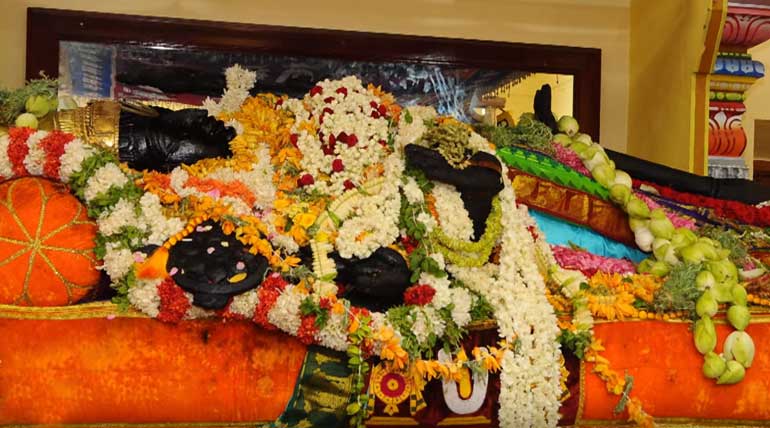 On the fifteenth day of "Athi Varadar Vaibhavam, the deity is draped with green silk attire and kept for Dharshan. Kancheepuram swarmed with disciples, and the small radius of the town is unable to accommodate lakhs and lakhs of footfall.
Devaraja Swamy temple in Kancheepuram is already very famous, and it is a tourist spot. This Athi Varadar Vaibhavam happens once in 40 years. Circumambulating this deity and worshipping will get rid you of all sins.
It is believed that positive energy exuded will give peace and prosperity to worshippers. Also, the sources said, the energy flow will be vibrant as God was taken out after 40 years. But this is the first time the town is replete with the unexpected crowd as the same was not the case in 1979.
Within 15 days, 17 lakh people have come for Darshan. People are queuing up from early morning hours to worship the deity. From all nook and corners of the country, the small town is seethed with people. Day by day, the complaints are getting worse that the waiting time in the queue goes beyond the limits.
Minimum of 7 hours on an average it takes to get Darshan according to sources. "The striking looks of the deity mounded with different flowers is washing out all the troubles and concerns encountered to get the Darshan," said a disciple who waited for almost 10 hours in the queue.
It is said that from today onwards the darshan timings will be cut by an hour. Close to one lakh people thronging the temple daily, the cleaning process becomes tedious. Hence the district and temple administration plans to close the temple gates at the eastern gopuram by 9 P.M, Said, Ponniah, Collector. Hitherto it was closed at 10 P.M.