If a Swiggy Kid Bleeds on Road, Swiggy Will be Put Behind Bars- A Bengaluru Cop Warns
Gokul Saravanan (Author)
Published Date :

Jan 22, 2020 10:33 IST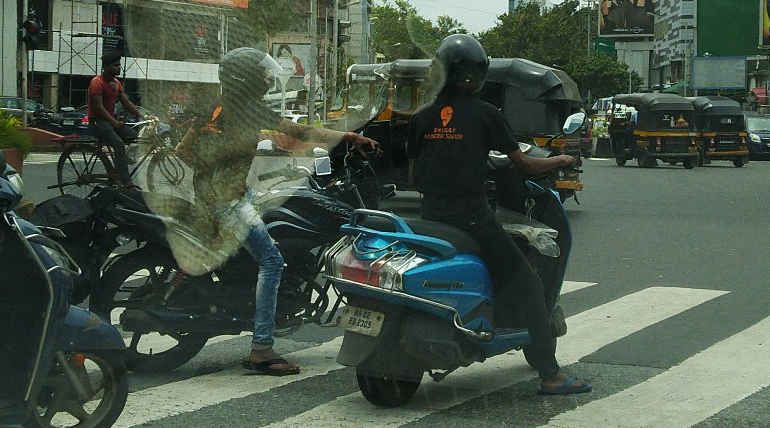 Next time, a Swiggy kid bleeds on the road, be sure, your management will be behind bars! - Bhaskar Rao IPS, Commissioner of Police, Bengaluru, warned Swiggy.
You get your food for free if you get the delivery past 30 minutes is the owe of Swiggy, the online food delivery agency actively improving their business across India. But, what goes unconcerned is, while the agency is actively concentrating on their business, some of their delivery boys, mostly looking just like adventurous kids, speeding past the traffic signals and crash into other vehicles or skid past scratching in the roads or fined by cops, and bleed badly of accident wounds.
Are the delivery boys risking their lives to deliver the food on time? No! Just to step back from scrapping their good remarks by their management as it could bother their daily wages.
Delivery boys stuck in accidents are happening around the nation. But, a typical female citizen from Bangaluru, tweeted her concern about these hard work of delivery boys, yesterday, January 21, 2020.
She tweeted that she had seen Swiggy and Zomato boys jumping traffic signals, overtaking vehicles, overspeeding, rash riding and more to just to make sure they deliver on time. She also mentioned that she was worried about those delivery boys risking their lives.
The twitter user tweeted her views as a reply to the tweet of Bhaskar Rao IPS, Commissioner of Police, Bangaluru City. Mr. Bhaskar Rao tweeted, asking the people that do we have hearts to get a free Pizza from a kid, who is risking his life to deliver the food on time, delivered your Pizza past 30 minutes? He also asked the Pizza companies in Bangaluru to increase the delivery timing by 40 minutes to stop those delivery boys risking their lives and breaking traffic rules.
Now, here comes the Swiggy Cares, Swiggy's twitter handle replying to the reply tweet of that female citizen who expressed her concern over Swiggy and Zomato delivery boys. Swiggy replied that it does not condone traffic violations and ask the twitter user to highlight such incidents through a phone call and concluded.
For that tweet of Swiggy, the Commissioner of Police replied accusing Swiggy as the biggest violator and have the temerity to tell that it will adhere to rules. He also stated that Swiggy's delivery boys beg cops to let them go as the company could penalize them for late delivery. Then Bhaskar Rao warned, stating that, next time, the Swiggy management will be kept behind bars if a Swiggy kid bleeds on the road.
However, some fellow twitter users trolled the tweet of the police officer by stating that "maybe we should start to have good roads at first."
Do we have the heart to get a free pizza from a kid who is risking his life just because he crossed over 30 mns. Am seriously considering asking Pizza companies to make it 40 mns as these kids risk their lives by breaking all Traffic rules.

— Bhaskar Rao IPS (@deepolice12) January 21, 2020
Hi there, we understand your concern. We do not condone traffic violations of any nature. If you witness the same, please highlight it to us by contacting us at 080-46866699. Have a good day ahead.

^Meg

— Swiggy Cares (@SwiggyCares) January 21, 2020
Mr Swiggy Cares, you are the biggest violators and have the temirity to tell me that you adhere to rules, your boys beg cops to let them go as you penalize them, next time a Swiggy kid bleeds on road, be sure, you management will be behind bars.

— Bhaskar Rao IPS (@deepolice12) January 21, 2020