Delhi Loses its Prominent Leader Today as Sheila Dikshit Passes Away
Vijayan Sankar (Author)
Published Date :

Jul 20, 2019 20:31 IST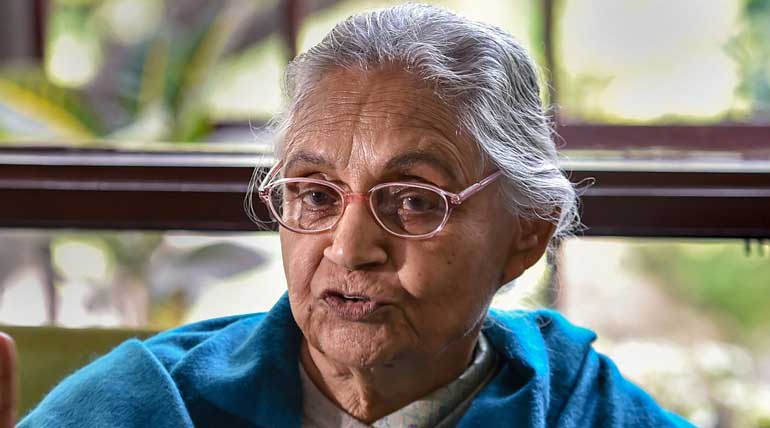 Delhi loses its prominent leader today as Sheila Dikshit passes away.
Chief Minister of Delhi for fifteen years Shiela Dikshit is no more. Delhi is what today mainly due to her contributions to it from 1998 to 2013. She was one of the tallest leaders of Congress who died at 81 today due to a double cardiac attack at 3.55 PM.
Public to pay homage to Sheila Dikshit at her residence till tomorrow at 11 AM:
Prime Minister Modi, President Ramnath Kovind, Former Prime Minister Manmohan Singh, and Delhi Chief Minister Kejriwal were the first to offer their condolences.
Dikshit's mortal remains will be kept at her residence in Nizamuddin for the public to pay homage till 11 AM tomorrow. At noon it will be kept in the Congress party office and at 2:30, cremation will be held at the Nigamboodh Ghat.
Delhi to observe two-day mourning:
Home Minister Rajnath Singh, Kejriwal, Sonia Gandhi, Ajay Maken and many leaders from all parties paid condolences to the Delhi Congress President Dikshit at her residence. The Delhi Government announced a two-day state mourning.
Sheila Kapoor was born in Punjab to an army officer said she was passionate about Delhi like that of teenage love. That love of Delhi made her leave her political career in Uttar Pradesh and come to Delhi.
Even at the ripe age of 81 she contested the Lok Sabha elections this year from North East Delhi and lost to BJP's Manoj Tiwari.
Rich tributes paid to Sheila Dikshit:
Dikshit was also Governor of Kerala and was managing the Delhi unit of Congress in these tough times also as its President. All the leaders paid huge tributes to her contribution to Delhi.
Many leaders, including the Prime Minister, said that Delhi owes to Dikshit of what it is today. She brought many infrastructural projects to Delhi. She was the only Delhi Chief Minister to serve it continuously for 15 years.
Delhi lost one of its great leaders, and Congress has lost its tall leader in Dikshit. Delhi people will remember Dikshit for her contributions to it.