Doctors on One-Day Token Strike Across Tamil Nadu Today
Vijayan Sankar (Author)
Published Date :

Aug 27, 2019 17:30 IST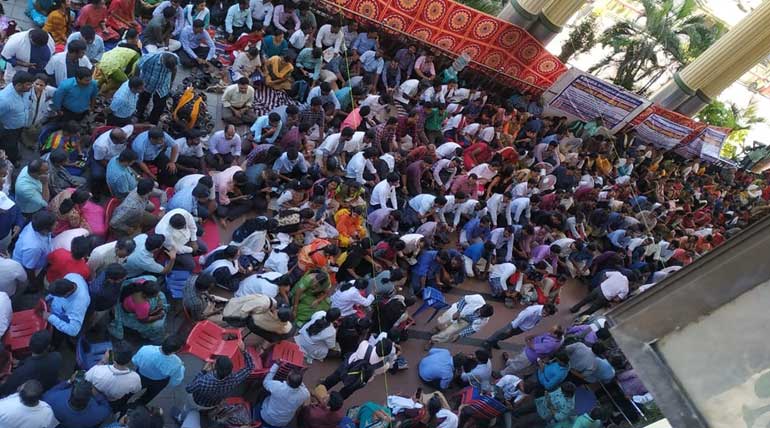 Doctors on one-day token strike across Tamil Nadu today
Government doctors across Tamil Nadu are on one-day token strike for the Government to fulfil their four-point chart of demands. Already six doctors are on hunger strike till death in Rajiv Gandhi Government hospital in Chennai from 23rd August. Health Minister Vijaya Baskar says the doctors should come to negotiations with the Government. Patients in the major hospitals are not affected as the striking doctors have taken necessary steps for the trauma and essential services.
What is the four-point chart of the demands of the government doctors?
The doctors for the past few months have put in some demands to the state and central governments. Since it was not resolved so far, they are striking now without any hindrance to the patients in government hospitals. It includes not only Chennai but also other significant districts like Madurai, Cuddalore among others. The four demands of the doctors include:
1st Demand:
The direct recruitment which paves the way for corruption should be stopped. The twenty years old counselling should be followed for all appointment of doctors and post-graduation medical studies.
2nd Demand:
To fill in the 600 medical seats which are vacant due to the MCI or medical council of India's regulations. The appointment of doctors and students should be only increased as per the rise in the patients level and not decreased.
3rd Demand:
Increase in salary for doctors who have not been raised for a long time. It should be by implementing the Government order 354.
4th Demand:
To implement the 20 years old procedure of 50 % reservation for service doctors in PG courses. It will motivate and increase the doctors who help the rural people by their service.
Health Minister Vijaya Baskar spoke to presspersons:
Regarding the question about the striking doctors, Health Minister Vijaya Baskar told that the Government is ready for talks with the striking doctors. And only they should come forward to talk to the Government.
DMK president Stalin requests the Government to solve the crisis over dialogue:
The opposition party president M.K.Stalin asked the Government to hold talks with the striking medicos to put an end to the crisis.
Only through dialogue between the doctors and Government could find an amicable solution to the on-going medical crisis in the state. The doctors and the Government should think of the sufferings of the patients and solve the issue amicably.