EPS honours Dheeran Chinnamalai Statue in Guindy
Prakash Jayaram (Author)
Published Date :

Aug 03, 2019 16:14 IST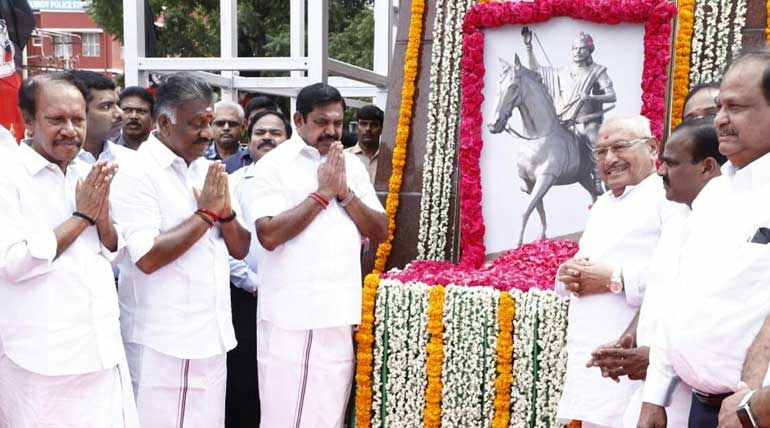 EPS honours Dheeran Chinnamalai's statue in Guindy.
On the 214th memorial day of the freedom fighter Dheeran Chinnamalai, the Chief Minister honoured him by decorating his statue in Guindy with flowers. He was accompanied by the vice Chief Minister O. Paneer Selvam along with prominent party leaders.
It is noteworthy to point out that EPS is from Edappadi, which is near the birthplace of Dheeran Chinnamalai. EPS has always been a supporter of the Kongu area to the point where he was of accused of favouring a specific part of Tamilnadu. Even the eight-lane expressway that EPS so desperately wants and which connects Chennai and Salem is said to be his way of cementing his name in the hearts of people of his homeland.
Dheeran Chinnamali – the first freedom fighter from the south
Dheerthagiri Gounder, also known as Dheeran Chinnamalai, was the leader of Kongunadu during the 1800s which was around the time when the British started attacking the regional kingdoms to take control. He was born in Sangakiri in Salem district and ruled the Kongunadu consisting of the Erode, Salem, Namakkal, Tirupur and Coimbatore.
He fought against the advent of the British colonialism alongside Tipu sultan, Kattabomman and later with Marudhu Pandiyar and the Marathas. He trained with the French forces from Pondicherry were learnt the guerrilla warfare and also fought alongside them.
Betrayed by his cook
He was defeated in the battle of Coimbatore and escaped. He then engaged in guerrilla warfare with the British and won three battles before being captured after his cook Nallapan betrayed him. Dheeran Chinnamalai hanged to his death alongside his brothers at the Sangakiri fort on the Aadi Perukku day.
He has memorial halls and statues in Chennai, Tiruchirapalli, Erode, Sangakiri and Odanilai where was buried. Dheeran Chinnamalai has honoured by the India post who released a commemorative postal stamp, and the transport department of Tiruchirapalli was named after him until it was changed.
Dheeran inspires the youth of the current generation.
He is also considered to be one of the first fighters against the British in Tamilnadu. Dheeran is also a great inspiration to the youth of the current generation in the Kongu part of Tamilnadu. He is being celebrated by many even now with them taking to social media to commemorate his bravery.
Dheeran Chinnamalai in Fancy Drees Srri SPK Public Senior Secondary School
A Tamil chieftain and Palayakkarar of Kongunadu who fought against the British East India company. Hidden freedom fighter Mr.Dheeran Chinnamalai's (1756-1805) 214th memorial day was observed in Srri SPK Public Senior Secondary School. On remembering him our student Master.