Full facts on German IIT student forced to leave India
Vignesh Subbaian (Author)
Published Date :

Dec 25, 2019 08:37 IST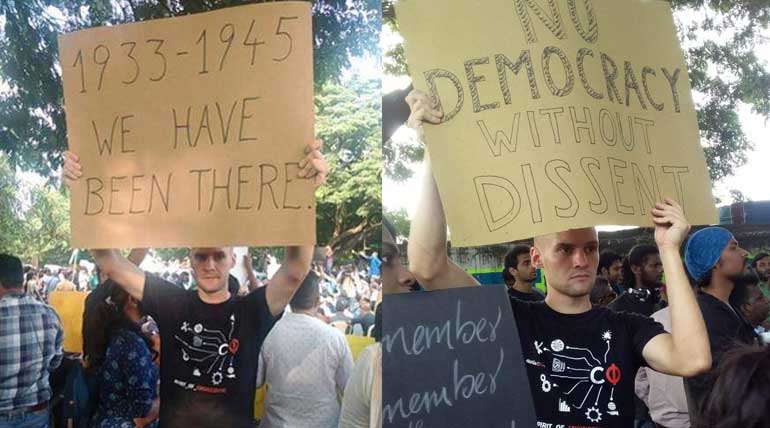 Full facts on German IIT student forced to leave India: CAA protests new casualty is a German student sent back due to his participation in it. Shashi Tharoor MP has requested the Central Education minister to withdraw his expulsion. IIT Madras students say it is a shame for India to send the German student back.
Many prominent leaders have also expressed their voice against his deportation. But Jakob Lindenthan is long gone to Amsterdam after being expelled by the Indian immigration authorities.
CAA protests across India have already claimed more than 20 lives. There is no rolling back of it by the Government, and the BJP party for the first time is holding demonstrations in favor of CAA in many parts of India.
Peaceful protests are turning violent to arrest and kill innocent people. The latest casualty is Jakob Lindenthal, who is a postgraduate physics student in IIT Madras. He participated in many CAA protests holding banners like "1933 – 1945 We have been there" It refers to the Nazi rule in Germany by the infamous Hitler who killed millions of Jews due to racism. But, later Hitler had to commit suicide. Uniformed Criminals = Criminals, It refers to the peaceful CAA protests turning violent.
Jakob Lindenthal spoke to a Press person in the airport on his way back to Amsterdam after the immigration authorities asked him to leave the country immediately. The excerpts include
A few days back I received a mail regarding my participation in CAA protests
My coordinators asked me to meet the Immigration authorities immediately
I went and met the immigration authorities
They casually asked about my hobbies and political stances
They continued to ask my part in the CAA protests
After answering the questions, they told me that, I had violated the immigration rules
They asked me to leave the country immediately
I asked them to give the expulsion order in writing, but so far they have not given one
I love India and IIT Madras, but the situation now is worrying me
No one in Germany have to leave it for protests against the law
Many IIT student associations have praised the humanity of Jacob and wanted the Central Government to cancel his expulsion.