Gujarat Bridge Collapse: Key Information Have Been Released
Vignesh Subbaian (Author)
Published Date :

Oct 31, 2022 11:16 IST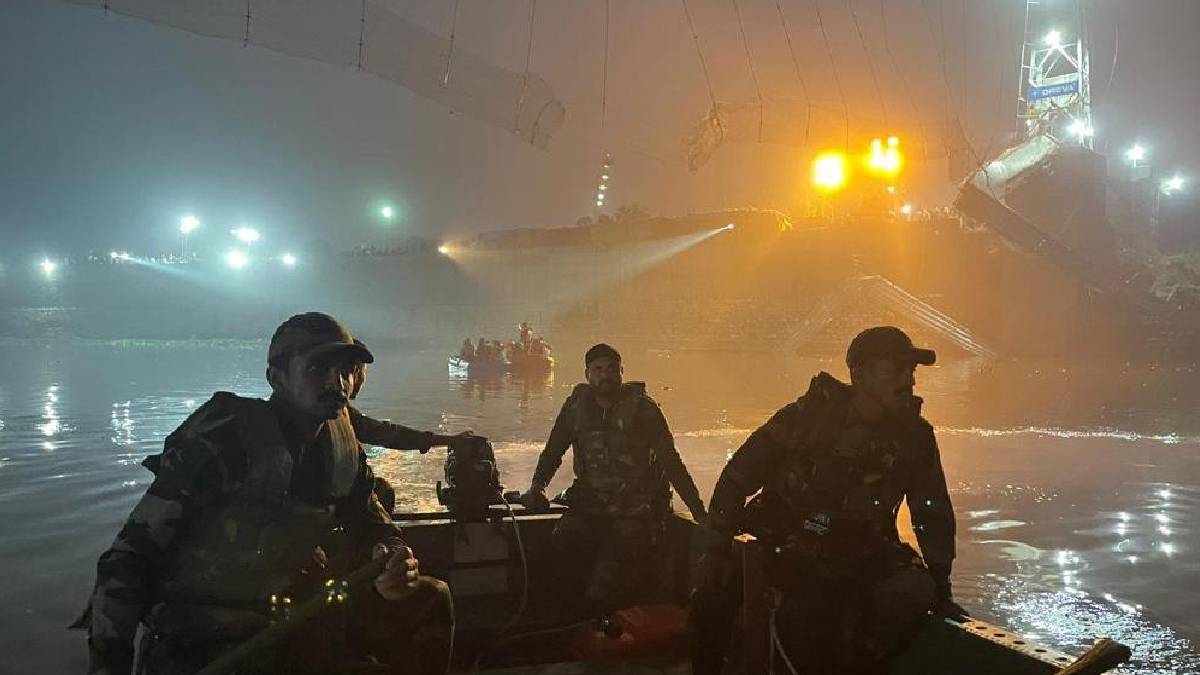 More than 130 people have died after a bridge collapsed in Morbi, Gujarat. Five important pieces of information have been released regarding the same. A river called the Machchhu River flows in Morbi, Gujarat. A 100-year-old suspension bridge was used to cross the river.
The bridge was opened on Diwali and Gujarat New Year's Day on 26th while the renovation work was going on for the past seven months.
As it is considered to be a famous bridge in the state of Gujarat, a large number of tourists thronged this suspension bridge on holiday. Many people, from children to adults, enjoyed nature while on this suspension bridge.
About 500 people were said to be there. Due to this, the suspension bridge suddenly fell without bearing the load. As a result, the people on the bridge fell into the water.
Many people shouted for rescue. And some went ashore hanging from the suspension bridge. And some swam ashore. After learning about the incident, the National Rescue Team rushed to the area and started the rescue operation.
More than 130 people have died in this accident so far. A search operation is also underway for those who drowned in the water. Similarly, 19 people are undergoing treatment in the hospital before the fitness certificate is issued. It has not even been four days since the repair work on the bridge was completed, and the bridge fell. On the one hand, there is an allegation that the repair work was not done properly, but the fitness certificate was not given to the bridge even though the repair work was done.
It is said that the accident happened because the bridge was opened before the fitness certificate was issued. In this situation, five important pieces of information about the cause of this suspension bridge accident, which claimed the lives of more than 140 people, have been revealed.
Information 1: Last week, a private trust, which got the government contract, was engaged in reconstructing the bridge. The bridge has been closed for seven months for renovation work. The bridge was opened for public use only on the 26th.
Information 2: After completion of the bridge reconstruction work, before opening the bridge, the company involved in the reconstruction work still needs to get the qualification certificate from the authorities for the bridge in good condition, according to Morbi Municipal Corporation Chairman Sandeep Singh Sala.
Information 3: Oreva Group, which has taken the government contract for the renovation of this 142-year-old bridge, should have checked the details of the renovation work and its quality before opening the bridge. But this was not done. Municipal officials said that the government was also not aware of this.
Information 4: There have been reports of people jumping and jumping while crossing the bridge. Running here and there, we could see that the cable bridge was swaying. Thus this is also seen as a reason.