Heavy Rains in Southern Odisha Cause Derailment of Goods Train Near Ambodala Railway Station
Vijayan Sankar (Author)
Published Date :

Aug 07, 2019 11:33 IST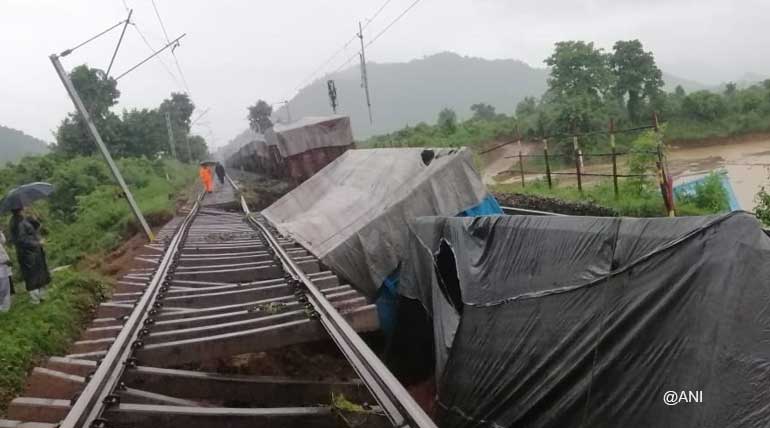 As per reports of the ECoR or the East Coast Railways, a goods train with 52 wagons of goods was derailed in Ambodala railway station. The reason for the derailment is due to the heavy rains in the southern parts of Odisha. The train services between Rayagada and Titlagarh was disrupted due to this derailment of a goods train. ECoR officials have rushed to the site with a relief train. But due to the floods were delayed to clear the goods train.
ECoR release on the good train derailment:
As per the ECoR release now the restoration of the train services in the southern region of Odisha can be cleared after the water flow on the railway tracks stops. As the railway tracks are flooded with water, priority is more given to move men and material from the Ambodala (AMB) railway track. The goods train was carrying goods to Vedantha of which three wagons derailed.
Odisha and train derailment a common one:
Hardly a month ago on June 25th, three railway employees were killed when Howrah-Jagadalpur Samaleswari Express got derailed near Angoor village, 20 km from Rayagada in Odisha. The accident was caused due to the train hitting a tower car engaged in maintenance work. Now due to the flash floods in southern Odisha, the railway tracks in Ambadola are washed away to derail the goods train.
ECoR is now faced with many derailments. It has to exercise more caution on the operations in the floods frequented Odisha. Since it was a goods train, there is no report of loss of lives. But if it could have been any other train, it could be disastrous in heavy rains.
Please contact the help desk numbers for information regarding diversion of trains in Southern Odisha
Sambalpur - 9437386759
Titlagarh - 8455892831 / 9437386693