Highlights of Howdy Modi in Houston - Trump Says The USA Loves India
Vijayan Sankar (Author)
Published Date :

Sep 23, 2019 10:29 IST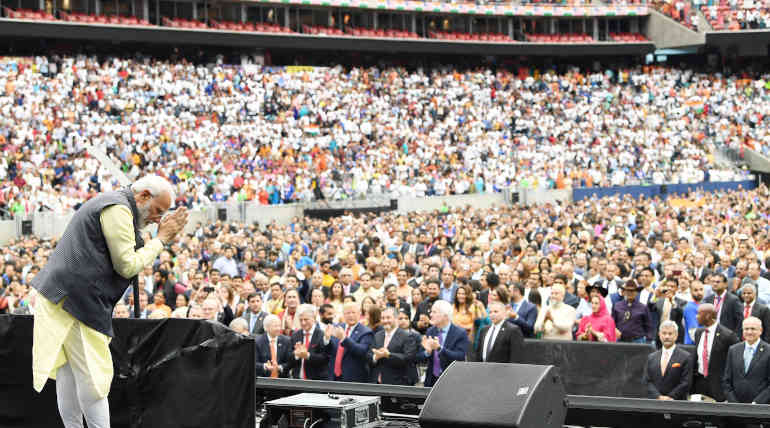 Highlights of Howdy Modi in Houston
Prime Minister Narendra Modi says America supports India against terrorism in the Howdy Modi. He also garners support for President Trump with "Abki Baar Trump Sarkar." Modi also says India was soon to become a 5 trillion dollar economy and more in
the Howdy Modi event in Houston yesterday.
Highlights of Howdy Modi in Houston
PM Modi spoke for nearly an hour at the Howdy Modi event at Houston

Modi says those who oppose abrogation of Article 370 are supporting terrorism

The US is firmly behind India against fighting terrorism is the contention of PM Modi

He said that the world knows where the perpetrators of 9/11 and 26/11 attack came from, indirectly accusing Pakistan

PM Modi pitches for President Trump to be elected again as President in the next year US elections

PM Modi requested the 50,000 crowds at NRG stadium to give a standing ovation for all parliamentarians in India who passed the abrogation of Article 370 in both the houses with a two-thirds majority.

PM Modi's UN meet on 27th will be high boosted by raising the Article 370 issue in the Houston event

PM took a dig at Pakistan for bringing the Kashmir issue to the UN. He said that countries who cannot manage their affairs are putting their hatred of India at the center of their political agenda

President Trump was all praises for PM in his 25-minute speech

Trump praised Modi as a loyal friend of the US

With President meeting Pakistan Prime Minister Imran Khan today and the UN on 27th, today's Houston speech of Trump gains importance

Trump said that both the US and India are committed to combating radical Islamic terrorism

He also said that both countries understand the necessity to protect borders to keep the communities safe

Trump also hinted of a surprise visit to India during the NBA preseason match in Mumbai

Prime Minister Modi has gone international with his oratory skills and publicity even to support President Trump in the next elections. But, how all this will benefit the average Indian struggling to meet ends is to be seen only in the future.
Photos from Prime Minister Narendra Modi - HowdyModi Event in Houston