Special Video - Indian Army detected Pakistani terrorists near LoC
Sivaranjani Soundararaj (Author)
Published Date :

Sep 27, 2019 23:15 IST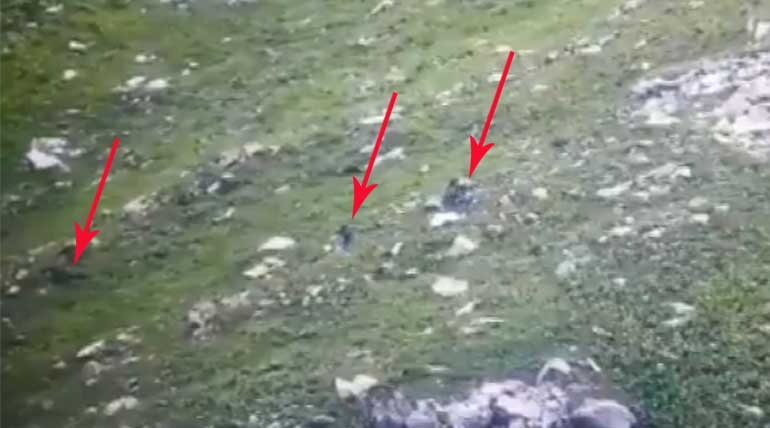 Indian Army releases a video on detection of Pakistan terrorist penetration across LoC in Kupwara, Kashmir: Terrorist infiltration to India clearly shows that the Pakistan Army is still not in control with their terrorist, even after Balakot Airstrike 2019.
What happened in Kashmir's Kupwara? Indian Army detected penetration of 4 Pakistan terrorist immediately near LoC in Kashmir's Kupwara. Indian Army fired back immediately to attack the terrorist.
Pakistan terrorist in spite of troops attack tried to enter the nation; Indian Armed generals forced them to withdraw their access with a leg nape injury.
Indian Army Video of Terrorist intrusion near Loc: An extreme action video relating to terrorist infiltrate released by the Indian Army. In the video footage, Four terrorists run after detected by army troops. Army generals started firing four of them.
They hide near hills and run away from the border with the injury. Several launch pads are near LoC just a few meters away to set intrusions-sources said.
Balakot Airstrike, Pakistan: In retaliation to Pulwama Attack, Indian Army targeting a non-military JeM activists group in Pakistan who is the reason behind the bomb blasts in Pulwama. Concerning Balakot strike, Pakistan terrorists engage in counterstrike for the JeM defeat of early this year.
Reactivation of Jaish-e-Mohammed camp after an airstrike in Balakot is done by JeM's; Two more maritime camps by Lakshar is being activated at Sialkot and Mirpur.
BSF and Indian Army Strengthens Drone security: Securities and Troops of BSF and Army have been intimated to strengthen their force near LoC in Jammu, Samba, Kathua, Rajouri, Poonch and Baramulla, Kupawara districts of the state.
The GPS drones carrying weights of arms, ammunition from Pakistan dropped into Taran, Punjab, India. Indian forces tighten security with a hawk-eye. See how Anti-forces think to destroy other nations?
Smuggling arms and explosives to trigger terror in India is a new module of terrorists operation-BSF officer.
Air and Sea Intrusion: Indian Army tightens border security force, so land intrusion is impossible for a terrorist to cross LoC. Pakistan Activists groups try infiltrating via Air and Sea. Drones are one such air intrusion.
Maritime groups trained by Lakshar e taiba organization seeks penetration through the water. Indian Navy and Airforce along with Army are in the alarm mode to avoid intrusions.
Indian forces secure with hawk-eye armed protection to save India from activists of Pakistan. Pakistan will never end its unwanted missions to possess Indian positions until the next strike like Balakot by Indian Arms.
Indian Army detected Pakistani terrorists near LoC in Kashmir's Kupwara sector on 30 Jul.Indian troops started firing at them as soon as terrorists were detected&forced them to return to their territory.They were attempting to infiltrate&carry out attacks on Indian positions. pic.twitter.com/WlKT9VF6Cd

— ANI (@ANI) September 27, 2019