Lord Athi Varadar in Kanchipuram Last Day to Worship Waiting Time Increased to 8 Hours
Vijayan Sankar (Author)
Published Date :

Aug 16, 2019 12:44 IST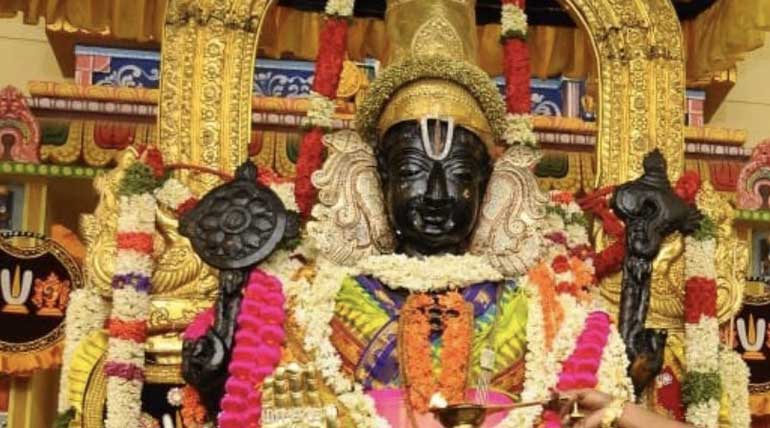 Waiting time to increase from current 4 to 8 hours today being the last day to worship Lord Athivaradar in Kanchipuram
Reports from Kancheepuram confirm that the current waiting time of four hours to worship Athi Varadar may increase to eight hours today. Since to worship Lord Athi varadar after today will take 40 years, Collector Ponniayah is expecting more crowds during the course of day. And reports suggest it may take up to 8 hours to worship the lord in the fag end of the day.
Lord Athivaradar to be immersed in Anandasaras tomorrow morning:
After 48 days of giving darshan to more than one crore of devotees, lord Athivaradar is to be sent back to his resting place tomorrow. He will be immersed in the Anandasaras pond in Varadaraja temple in Kanchipuram. It will happen tomorrow morning after completing all the rituals.
No one is allowed inside the temple from early morning tomorrow. The Collector confirmed only the cleaning staff along with the pundits will be allowed inside the temple tomorrow morning.
Till what time is the darshan allowed today?
As per the earlier announcement of Collector, the darshan will continue till all the devotees inside the temple during the night have their darshan. He has also stated that the darshan hours could be extended beyond the normal hours. It could even go on till the early hours of 17th August to facilitate the darshan of the lakhs of devotees.
How many could have darshan today?
So far nearly 5 lakh people have had darshan or in the process today. It is set to increase as the day ends. As per the crowd at the end of the day, the darshan timings will be extended. But as the Collector said no one can have darshan beyond 4 AM tomorrow. From then on the rituals will start for the lord to be immersed in the Anantasaras.
What are the arrangements made for the last day?
Many minibuses are plying from the temple and railway station. Special buses and trains have been arranged for the devotees to visit and return. Food and water facilities are done well for the help of the devotees. No VIP darshan today.
Today being the last day unprecedented crowds could be expected as the day ends and the administration is geared well to make all of them have their darshan of the Lord Athivaradar.