Mission Miracle to Retrieve Five Bodies of the Missing 8 Nanda Devi Climbers Postponed
Vijayan Sankar (Author)
Published Date :

Jun 05, 2019 12:50 IST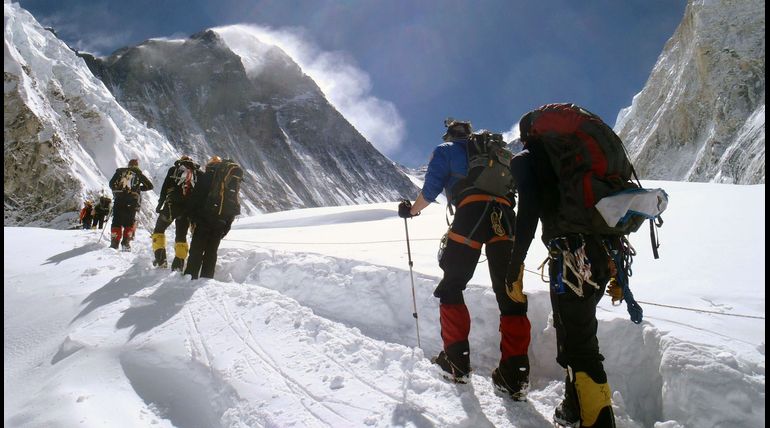 In this season the unusual traffic jam in Mount Everest in Nepal was the reason for the death of many brave mountaineers. In Indian Himalayas, the disappearance of 8 climbers was reported on May 26. They were part of a 12 member's team guided by the legendary mountaineer guide Martin Moran. Four members were lucky enough to part from the team due to the bad weather and airlifted to safety on May 26. They were part of the mission miracle in search of the other 8 mountaineers. But they were able to identify only five bodies in the Pithoragarh region. The mission to retrieve the bodies which were considered a miracle if it succeeded, was aborted today due to bad weather.
Nanda Devi and Peak 6447m: Nanda Devi peak is the second tallest mountain in India and the 23rd tallest in the world. Mountaineers from around the world have their mountaineering adventures here. It is a 7,816-meter mountain and near to it is another unnamed mountain known as Peak 6447 m. The group lead by Martin Moran on behalf of his Scotland based company Moran Mountain wanted to climb Peak 6447m before climbing Nanda Devi. They went out of contact from May 26 before an avalanche hit the Nanda Devi peak mountain.
Who are the missing eight climbers? The missing eight climbers include:
The legendary guide British Martin Moron
Dr.Richard Payne, Lecturer at York University
And the third British John McLaren
The two US nationals Anthony Sudekum and Ronaki Beimal
Australian Ruth McCance
Indian guide Chetan Pandey
Multiple avalanches hitting Nanda Devi and the harsh weather conditions have made to postpone the retrieving of the 5 bodies. A new strategy is to be formulated by authorities to retrieve them. The family of the lost 8 climbers was in full praise for their love of ice and mountains. But they were also worried about the whereabouts of the other 3 and the dead five on the Indian Himalayas.