Naam Tamilar Party coordinator Seeman Suggestions for Water Scarcity
Chandra Raja Prabu (Author)
Published Date :

Jun 15, 2019 14:18 IST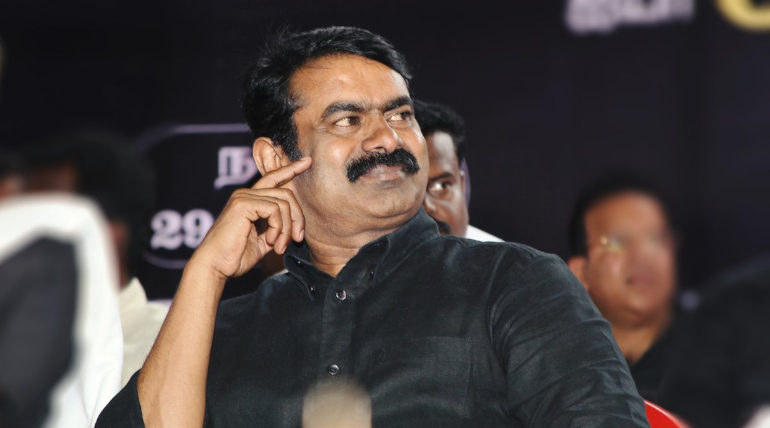 Though it rains in various parts of Tamil Nadu, heavy rains and torrential rains sweep through Chennai and its surrounding areas, causing water scarcity. Some hotels have closed. Some of the IT companies have asked their employees to work from home. In some places of Tamilnadu, people are willing to pay higher prices but have difficulty getting water. Opposition parties have expressed dissatisfaction with the Tamil Nadu government's move.
In this backdrop, Tamilnadu Naam Tamilar Party coordinator Seeman has stated the use of water. He said, "The world is not without water," says Tamil poet Valluvan. 'Save the water is a king's main duty; If you do it, you will get the money, the material, and the pleasure," the Sangha literature says. Our forefathers created abundant water to store water before they realised the beauty of water storage. When the three-wheeler was planted, water levels were created throughout the country, and they were merged into a chain and maintained daily, fulfilling the people's water and irrigation needs.
However, nowadays Dravidian rulers who have no concern or basic understanding of water management, sewerage management, water conservation and the necessity of water, have witnessed an unprecedented drought and Water Scarcity in Tamil Nadu. Naam Tamilar Party coordinator Seeman mentioned that Tamil Nadu is suffering from water scarcity despite its higher rainfall than neighbouring states.
Water Scarcity is the result of a tyrannical regime that forcibly dismantles the disaster projects in Tamil Nadu such as methane, hydrocarbon, reactor, Sterlite plant, neutrino hub, eight-lane road and nuclear reactor.
It is imperative that we take some precautions to protect ourselves from the clutches of this crisis and to adapt ourselves to this environment.
Naam Tamilar Party coordinator Seeman Suggestions for Water Scarcity
When washing utensils, we open the tube and fill it with a separate dishwasher.
When washing fruits or vegetables, we open the tube and fill it with water in a pan.
When using a toothbrush and face wash, we use a small bottle to fill the vessel, rather than open it as flow.
When bathing, we do not bathe in a shower, we will fill the buckets with water. We try to finish the bath with as less bucket water as possible.
If we use the fabric washing machine, we will use the machine after packing the clothes. Washing clothes daily costs more water. So let's just water all the clothes in the same way as soon as possible. After washing the fabric we will not waste the remaining water and pour it into the toilets.
We should not only use Western toilets. If using Western Toilets, we clean and pour water through the bucket without flushing the key flush. A drop of water will not be wasted.
We will make sure there are no water leaks in the pipes anywhere in the house. If the water spills leaks, we will remove them or replace some other equipment.
Wash your hands before and after eating with the help of a dishwasher.
When washing vehicles, we wash them with a water-soaked damp cloth instead of pouring on it.
Naam Tamilar Party coordinator Seeman insist us that each of the above must be followed and cooperate with less water use. Of course, we can overcome the Water Scarcity situation too. Therefore, move the days with confidence and awareness. We will return and face this drought and Water Scarcity.