Modi Cabinet Reshuffle: New Ministry Formed with 77 Ministers
Vignesh Subbaian (Author)
Published Date :

Jul 08, 2021 05:30 IST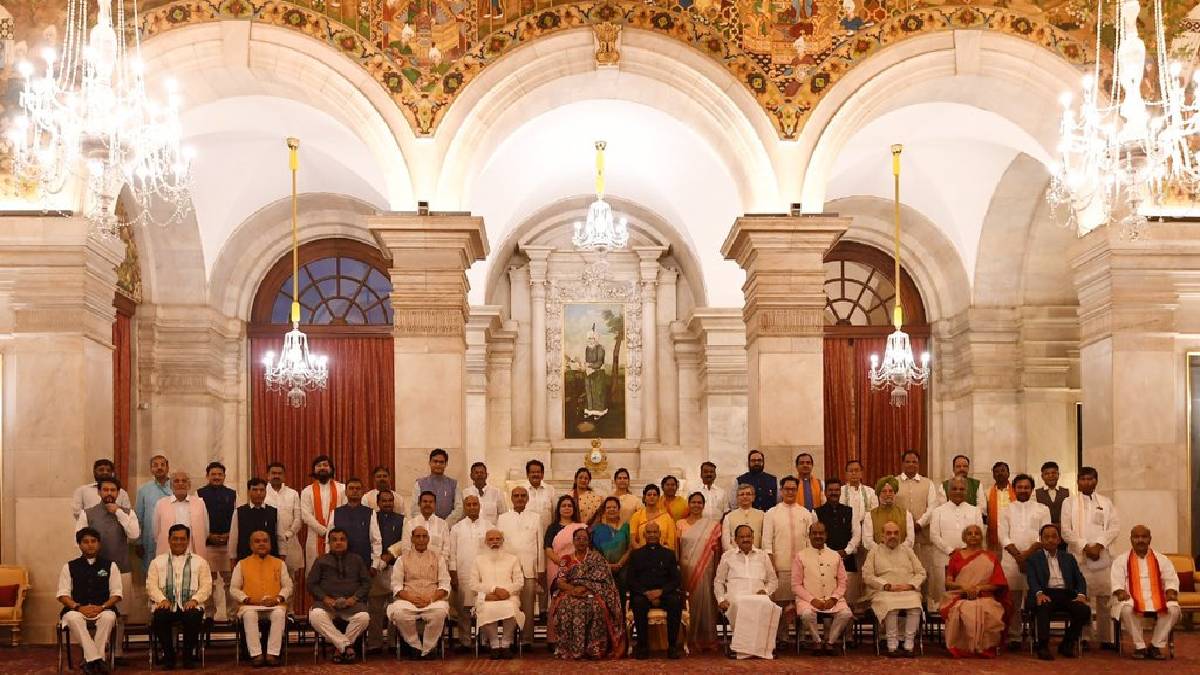 The alterations made by the Modi government with the appointment of a new office minister is with great expectations. With 77 ministers currently in the Union Cabinet, the question naturally arises as to what became the slogan 'maximum government, maximum governance' put forward when Prime Minister Modi first came to power.
The Union Cabinet has not been changed for the last two years since Prime Minister Modi took office for the second time. In this situation, the cabinet was expanded yesterday for the first time in Modi's rule. About 20% of the previous ministers were replaced, and a few notable ministers were resigned. Many senior ministers like Prakash Javadekar, Ravi Shankar Prasad and Harshwardhan, known ministers, resigned.
Forty-three ministers, including L Murugan from Tamil Nadu, were selected for office yesterday. Already, seven former ministers have been promoted to Union ministers. Thirty-six new ministers were appointed. Narendra Modi's new cabinet members include 12 Dalits, 27 OBCs and 11 women. A further 14 people under the age of 50 have been appointed as ministers.
In 2014, the Manmohan Singh government had a total of 76 ministers. After winning the election and taking power, Modi initially had only 43 ministers in his cabinet. The slogan of the BJP was 'maximum government, maximum governance", and the motto is under action. But there are now 77 ministers in Prime Minister Modi's cabinet, with 36 newly appointed ministers for seven years.
This is only four less than the allowable number of ministers. Out of a total of 543 Lok Sabha members, 15%, or 81, can be appointed as ministers. The Modi cabinet currently has a capacity of 58 cabinet ministers, including seven cabinet ministers from associate portfolios.
In 2014, the Modi-led BJP government came to power with the single mantra of eradicating corruption. The BJP then strongly criticized the appointment of so many ministers to appease the coalition parties. Usually, when a government is in power for ten years, it is natural for people to be dissatisfied with it.
With this in mind, the cabinet has been expanded with the 2024 elections in mind. Of the current cabinet ministers, 27 belong to the OBC class. Similarly, assembly elections will be held in about 16 states before the Lok Sabha elections. The BJP is in power in most of the states. This also echoed in the cabinet reshuffle.
Seven ministers from Uttar Pradesh and four from Karnataka have been appointed as ministers. Now the question is whether the alterations in the cabinet ministers make changes in the governance.