Non Stop Rain in Coimbatore Killed Two and Collapsed a Building
Anusha Sathish (Author)
Published Date :

Aug 08, 2019 10:12 IST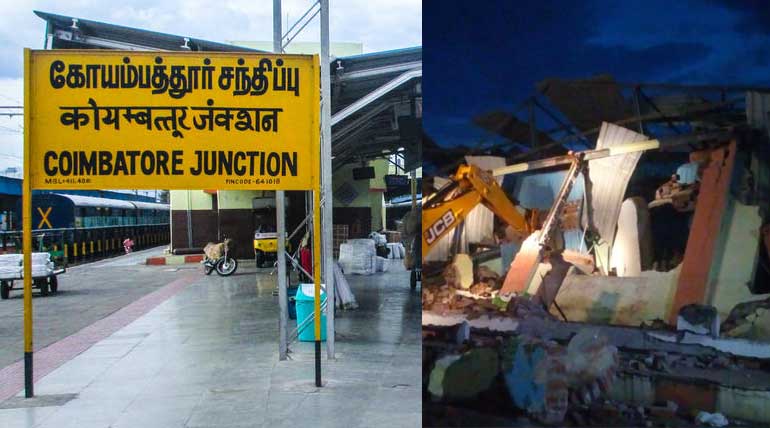 Coimbatore is a place in Tamil Nadu which is near to Ooty. People in Tamil Nadu usually term it as a heavenly place to stay in. Like Bangalore in Karnataka, the weather in Coimbatore is always welcoming. For the past three days, it was monsoon raining in the city. The last two days it was storming too along with the rain. The total city is in a state of inundation. Between, the disaster has happened where a parcel service office building of Coimbatore Railways was grounded due to heavy rain and storm. The brick structured building was roofed with the asbestos sheet. Unable to withstand the heavy storm, the roof got collapsed.
The incident has happened around 3 A.M in the morning. There were four persons inside the office named Raghu, Raju, Pavazhamani and Ibrahim. Raghu was heading as Registrar of the office, and the other three were assisting him. Raghu has escaped narrowly sensing the issue. The other three got stuck inside. In between, the firefighters headed by Balasubramanian rushed to the spot to rescue the victims. They have been immediately taken to the hospital. The treatment didn't work for Ibrahim and Pavazhamani, and they died. The other one is still under danger zone.
Not only the roof, but the entire building was also collapsed. The area of the building is 100*50. It was functioning as three separate divisions, one for two-wheeler booking, one for other booking services and the third as a luggage lounge. The person who stayed nearby to the building named Nazar witnessed the incident and telephoned to the fire department for rescue operations. Even now it is raining in Coimbatore. The railway authorities so far has not commented anything in this regard.