Attack on Environmental Activist Piyush Manush at Salem BJP Office Live in Facebook
Vijayan Sankar (Author)
Published Date :

Aug 28, 2019 20:52 IST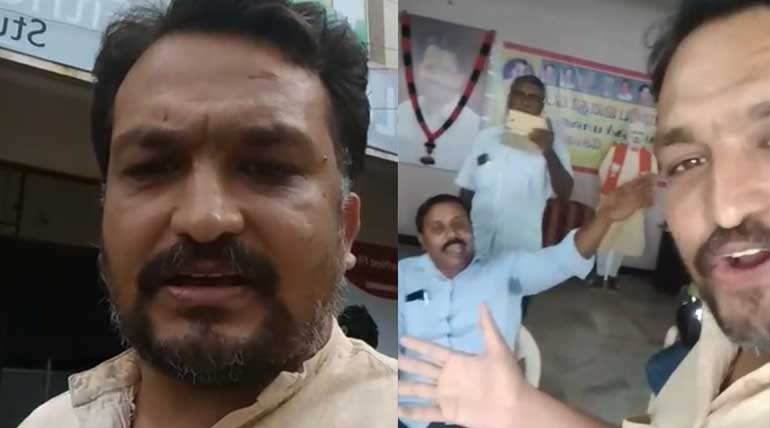 Attack on environmental activist Piyush Manush at Salem BJP office live in Facebook: Piyush Manush, an environmental activist, was beaten in the Salem BJP office now. It is live on Facebook now. BJP state president Tamilisai Soundarajan condemned his unauthorized entry into the BJP office and causing law and order situation. She wanted the police to take action against such unsocial elements like Piyush and maintain peace.
Piyush goes live on Facebook and beaten in Salem BJP office: Piyush Manush, the founder of Salem Citizen's Forum, is an environment activist helping citizens with welfare activities. He is also a critic of the state and central governments. Piyush Manush opposed the Chennai-Salem proposed Eight Lane highway. Today he took an adventurous trip to the Salem BJP office to get some answers. But he was shouted down on all his questions and beaten up badly. The police came to the spot and saved Piyush Manush and took him away. Videos Shown that he was beaten in front of the police too and police.
What are the questions asked by Piyush Manush for getting beaten up?
He asked about one Manikandan who is sending knives and sickles to his messenger
Why the suffering of the Kashmiri people by revoking Article 370?
Why did the Central Government take lakhs of rupees from RBI?
Why did H.Raja was sitting and talking to rape accused Nityananda?
Why some wrong information by the Salem BJP about his daughter?
But none of the questions were answered, but he was accused of taking government lands and beaten up badly. Now the video is not even getting viewed due to some blockage.
Did Piyush do this act for media coverage? Or was his anger is going to the Salem BJP office to ask a few questions about him, his family and country welfare correct? What will be the next police action against him? Only time can answer all these questions.