Coronavirus in Kolkata: Kolkata Police Arrested Woman for Misbehaving with the Police Officer
Vignesh Subbaian (Author)
Published Date :

Mar 26, 2020 15:46 IST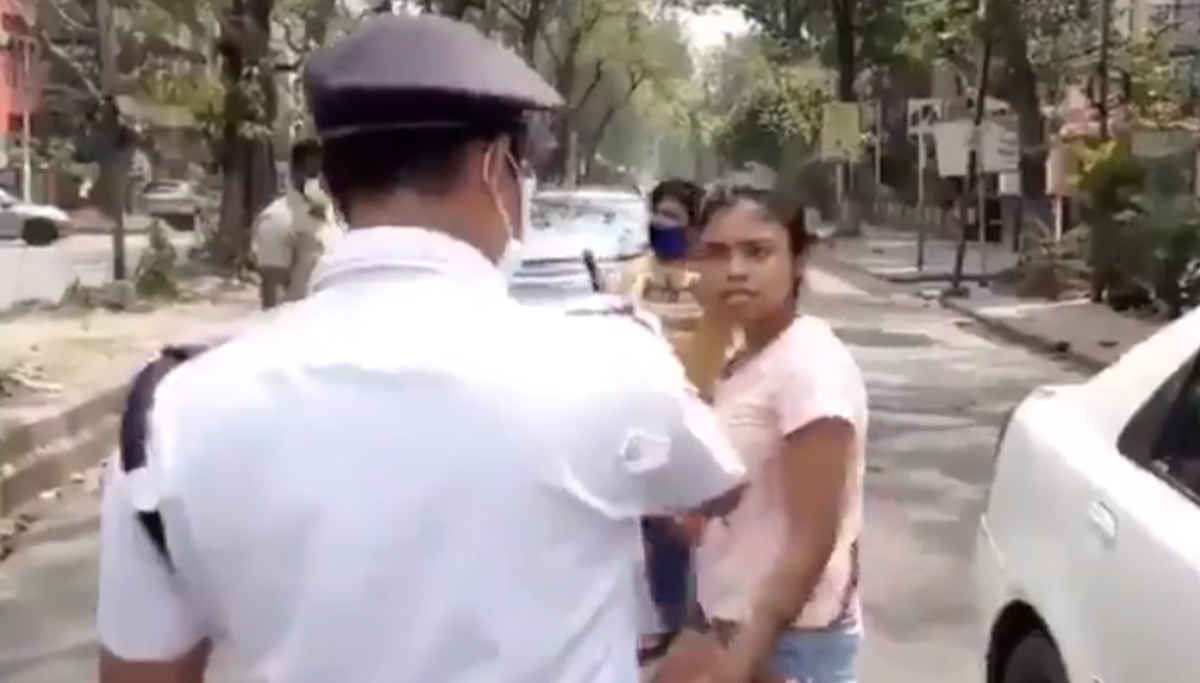 The 21 days lockdown that started yesterday saw many incidents across India. A sub-inspector crying with folded hands on the arterial Mount Road in Chennai asking people to stay indoors went viral in social media. Also, there are many incidents where people on the bikes violating the lockdown were beaten up by the police.
Some were made to do squats on the road. The police hit one male doctor, and an SI slapped a lady doctor, and when doctors reprimanded the cops, they got an apology in writing. Apart from the above, an incident in Kolkata is fueling the situation between the public and the police.
A 24-years-old woman reportedly spat on a policeman who stopped her cab for compulsory questioning. Police SI Suman Bhattacharya stopped an app-cab near Bidhannagar North Police Station for checking. While he was questioning the cab driver, the woman who was in the back seat of the cab with her friend started to throw out abusive words on the SI and ran near him and licked(or tried biting) his uniform and spat on him. Now she is arrested and the cab seized by the Kolkota police.
The prime minister announced on March 24 that from 12 that night, India is locked down for the next 21 days. It is to control the coronavirus spread, which is increasing every day. On the first day of the lockdown, 92 cases were confirmed, taking the infected cases to 606 and two dead one in Tamil Nadu and another in Jammu & Kashmir.
Several leaders like former finance minister P.Chidambaram, Kamal Haasan, and others have asked for relief to the millions of daily wagers who could suffer the most from the lockdown.
Despite the lockdown and the police vigil of not allowing people to walk around Delhi, hundreds are now walking with their families to their hometowns in UP more than 150 kilometers away. It is because they do not have the money for food or transport, and no one is helping them in Delhi, and even their children are starving without food.
WHO chief Tedros Adhanom said that lockdown alone is not enough to get rid of the coronavirus from the world. Governments should use this opportunity to identify, isolate, test, and treat to eradicate the virus. Otherwise, the lockdown will only buy time to slow down the spread of coronavirus infection and a relief to the doctors treating them.
It is for the people to be safe at home not to get infected by the virus. And it is for the government to create a livelihood for those who are affected by it. It has to feed them and their children from avoiding their starving to death in the next 20 days.