Rafale Hammer Fighter will reach Ambala from France by 2 p.m today
Sivaranjani Soundararaj (Author)
Published Date :

Jul 29, 2020 11:51 IST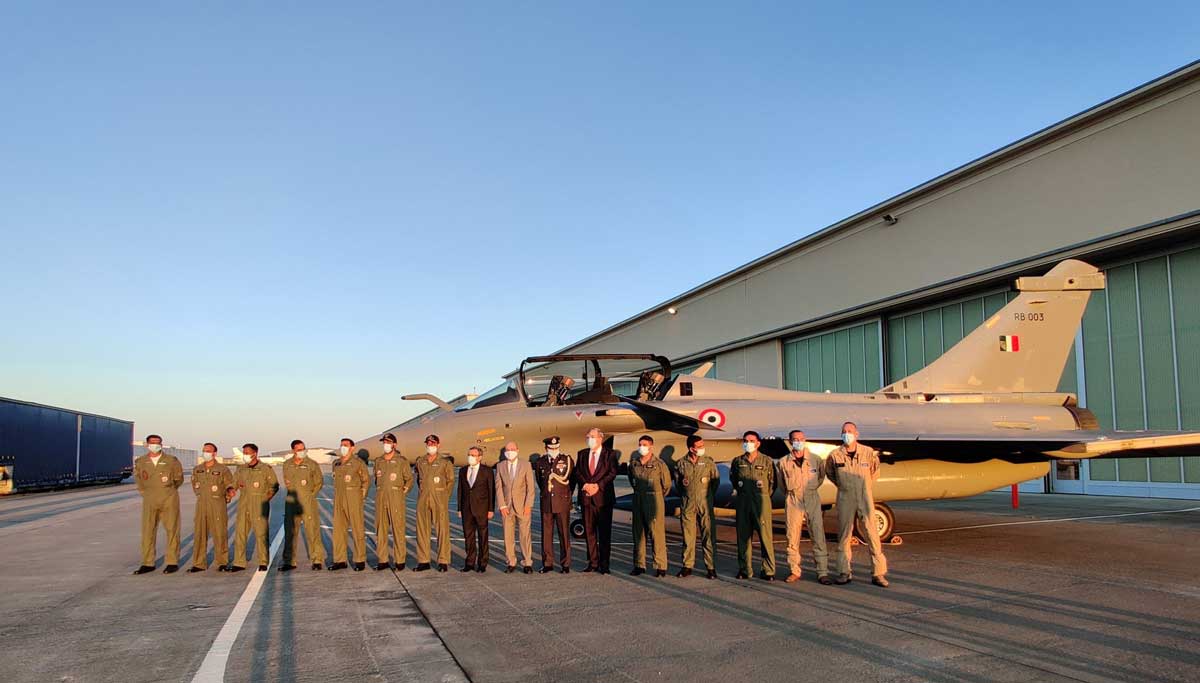 India: The first batch of 5 Rafale fighters is on their mid-way and will reach India's Ambala by 2 p.m. To be specific, 36 Rafale jets have been ordered by the Indian government for a cost of 59,000 crore in September 2016 to strengthen the Defense force due to the prevailing wars between China and Pakistan.
As a result, five Rafale flights built with HAMMER (Highly Aandgile Modular Munition Extended Range) flies high from Merignac in Southwest France crosses 7000 kms to reach air base of Ambala which borders China and Pakistan by a distance of 200 kms via Al-Dhafra air base of United Arab Emirates as a pit stop.
The jets will be received by Air Chief Marshal RKS Bhadauria in Ambala today and the Indian Air force thanked the French Air force for the extreme support in the journey of Rafale back home.
Developed by Dassault Aviation of France and piloted by Indian air force officers. A Rafale aircraft can be fitted with up to 6 Hammer missiles. Also, the Raphael fighter jet is being brought to India armed. Thus, it has all the offensive features ready for war. Hopefully, the remaining jets will be delivered by 2022.
The first Refuelling was made in mid-air by the French air force using Airbus A330 MRTT (Multi-role tanker transport) during their way to Al Dhafra. IAF's Russian Ilyushin-78 will aid the next aerial Refuelling for the second wave of travel from Al Dhafra to Ambala.
This mission is a milestone for the Indian army, French and Indian embassy praises for the immeasurable strengthening of aircraft in terms of Defense and country's growth.
Emmanuel Lenain, French Ambassador to India, stated that the planes are incredibly massive and the Indian pilots are fully trained to handle the armed missile, which is possible only through their determination during the training in France.
The specialty in the new home-coming Rafale jet is mainly capable of carrying high armed equipment such as Meteor air-to-air missile and SCALP cruise missile. Also, the Rafale Hammer includes special customisations for the Indian Air force, such as IR tracking system, 10-hour data recorder, Low band Jammers, Radar warning receivers and Israeli helmet-mounted displays which are mainly to give a head back defeat via air to the China and Pakistan airstrikes.
Rafale Hammer missiles can accurately strike and destroy bunkers set up in mountainous areas or plains. To this end, these missiles have been specially developed. Therefore, the Hammer missile is capable of crushing bunkers on the border and the tents of enemy troops or militants.