Tamil Bike Rider Saved One Year Struggled Kerala Youngster On His Road Trip
Thangaraja Palaniappan (Author)
Published Date :

May 26, 2022 15:34 IST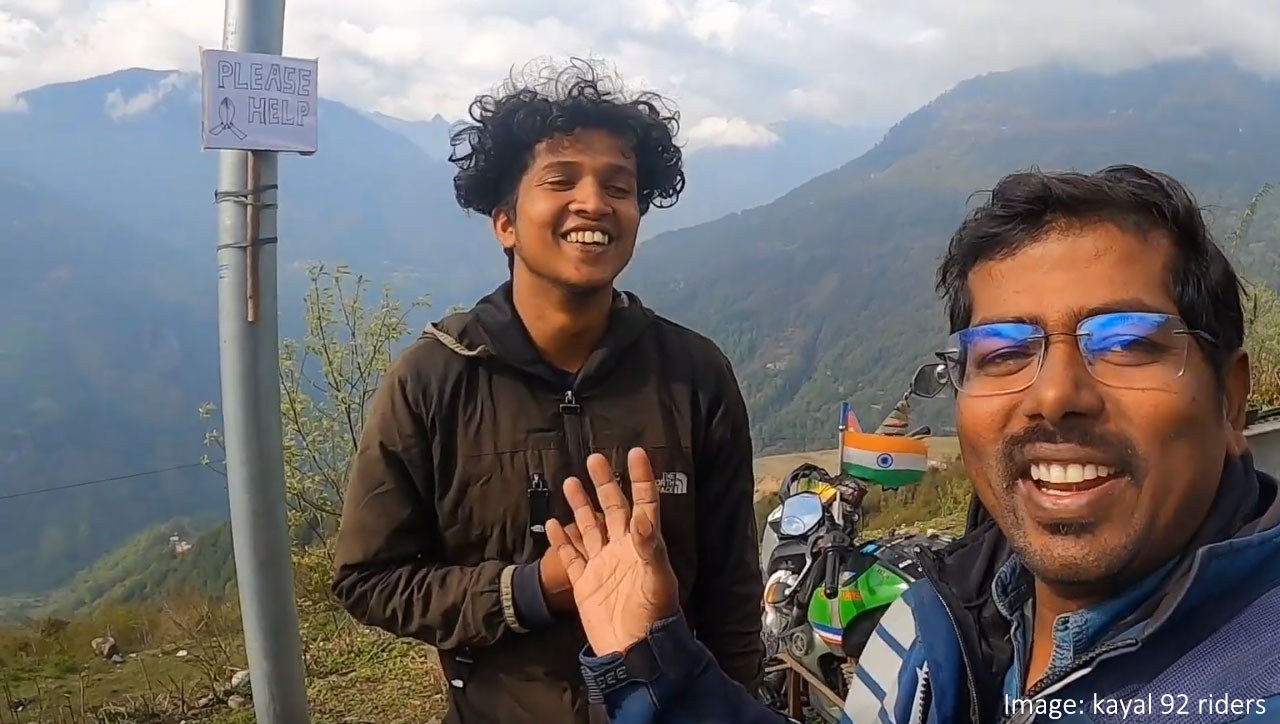 Trips to Ladakh are a never-ending trend among the youngsters. It is now very common to see the youngsters go on solo trips to Ladakh with their bikes, even on bicycles. During their trips, the motorists will club with new friends on the way through good communication and via help. Here is a beautiful incident that occurred recently, which will amaze you if you are a motorist.
Solo bike riders are starting their bike trip at their own risk. Travelling within the state is not that challenging but travelling to the other state where there is communication risk is very challenging. Being a south Indian, you can travel and enjoy inside south India amidst the risk but going in for a solo bike ride to north India being a south Indian is challenging.
Solo bike ride survival in a new place with new faces, without knowing the language, is challenging beyond the adventurous part. Kumbu is such a kind of solo bike rider from Kerala who is on an unusual trip. Solo bike riders often choose trips like Kanyakumari to Ladakh bike trip, Chennai to Ladakh road trip, Chennai To Wayanad bike tour, Mumbai To Ladakh bike ride, Chennai To Delhi bike group tour, Chennai To Goa riders, Coimbatore to Goa, Coimbatore to Ladakh, Chennai to Manali, Manali to Jammu and Kashmir trips.
There are many vloggers on Youtube who concentrates only on travel. While watching the videos of them, few videos will make us believe that humanity still exists. Jagdish Kiruba, a YouTuber and vlogger, Kayal 92 riders, with 18K+ subscribers, has started his Northeast ride. He began his vlogging from the bag packing and headed with his trip vlogs from Kanyakumari to Myanmar solo trip with the purpose theme "Stop War-Save People-Spread Love".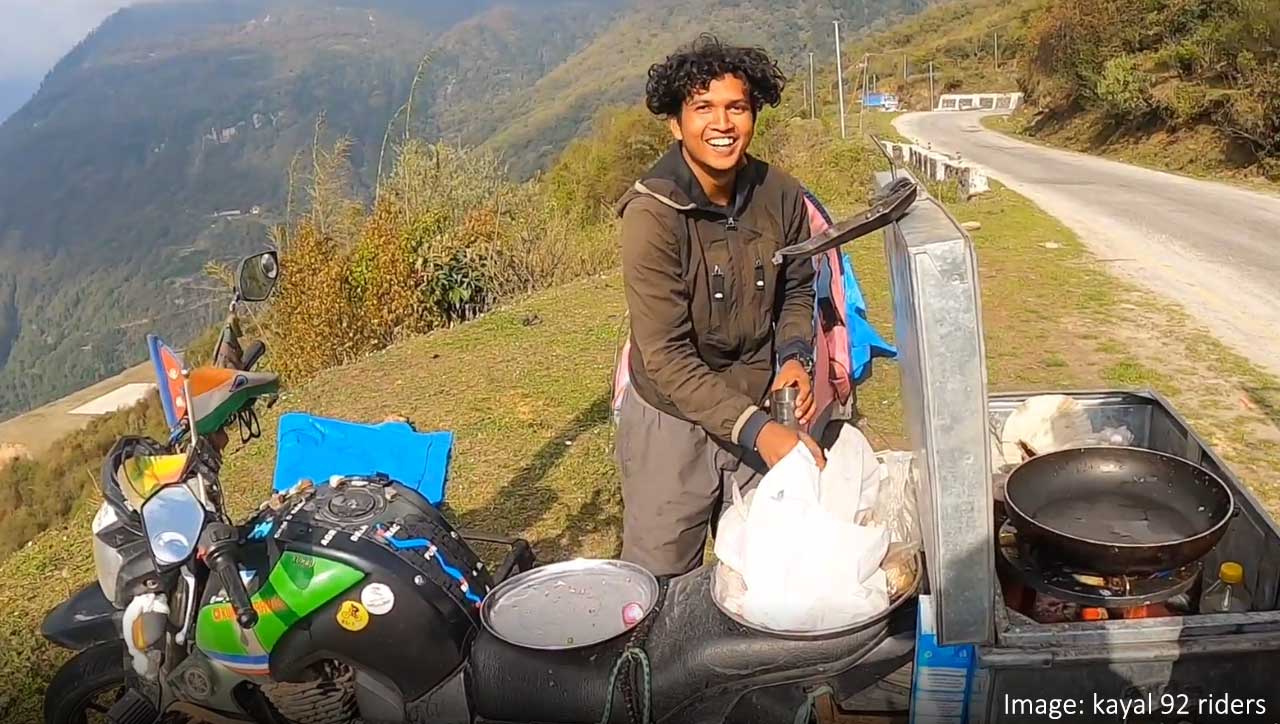 During his ride, has accidentally meets a Malayali rider Kumbu on May 22, 2022 at Tawang. Kumbu started his Northeast ride with just 5000 rupees, and it travelled for more than a year. He has almost covered many places in India. He travels from one place to another by earning himself.
Are you thinking about how a person can earn during his ride in a new place? Yes, Kumbu is doing it. Kumbu works in hotels to earn money in different states. Later his new friends in Utter Pradesh made a special setup on his bike. They made him a mini-kitchen setup with a mini cylinder and needed vessels, including a mini cooker.
If he needs money, he halts in a place and sells bread omelette, Maggi, tea and other possible foods. This made him survive with a happy face in an unknown place. During his unusual trip, his Bike engine got repaired, and he halted in a place with a board "please help".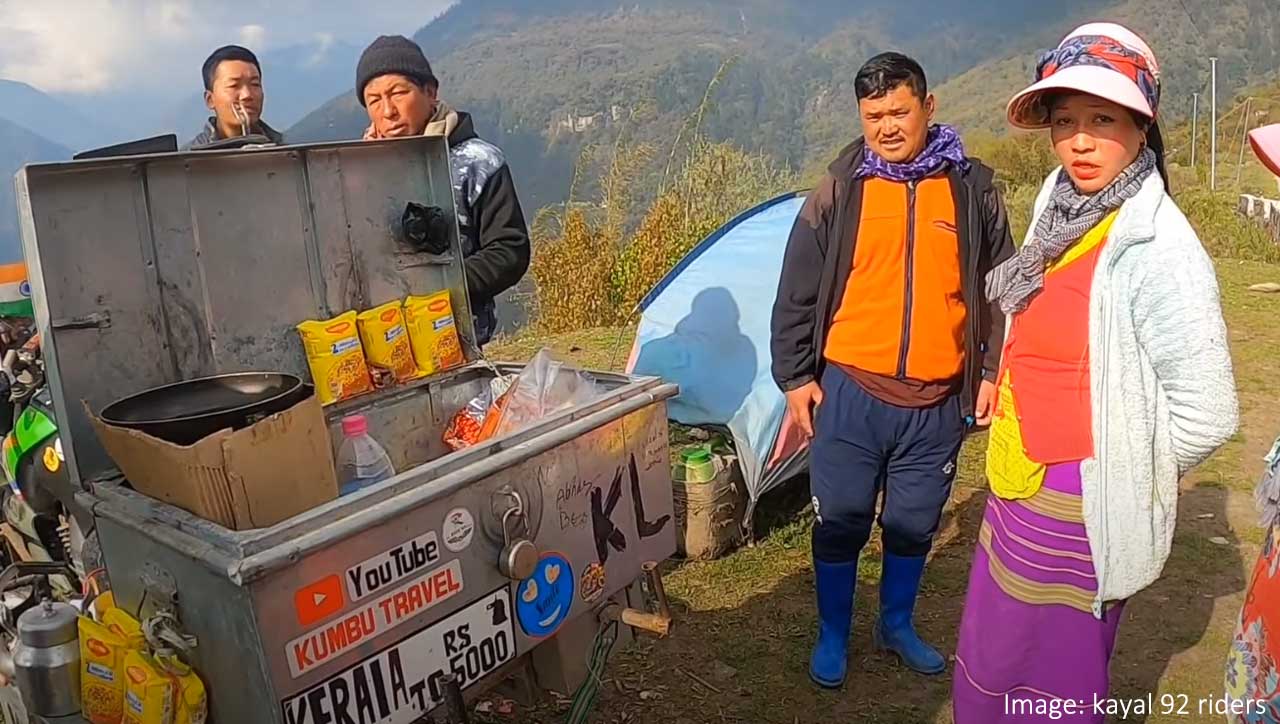 Kayal 92 riders then meet him and communicate with him. The rider has also taken a video of that and posted it on his Youtube channel. Kumbu has halted in that Tawang for four days. To get his engine fixed, he almost needed 15,000 rupees. Kayal 92 requested the viewers to help him financially via Phonepe. He also mentioned Kumbu's phone number.
Later that day, Kumbu posted a video thanking Tamil people and the other viewers who sent him money. He said in the video that he received 15,000 rupees and his bike is ready, and now minute repair is in process. And the money that was sent to him is enough. He requested the viewers not to send him money. This video received a good credit, and it is evident that humanity still exists.
The comments are pouring with good responses. It is good to see motorists/riders like this, helping each other during their trips. There are people doing fraud by circulating wrong information in order to collect money amidst those kinds of activities, and this incident has brought a different dimension.
Kayal 92 has helped Kumbu with his vlog and proved that humanity is still alive. Trusting a stranger is very difficult, but Kayal 98 vlog made the viewers understand the pathetic situation of the other solo bike rider. Motorists helping the other motorists is an admirable and amazing watch.