Tamil Nadu CM gives overly Bravery Award to Nellai couple Shanmugavelu and Senthamarai
Vijayan Sankar (Author)
Published Date :

Aug 16, 2019 15:24 IST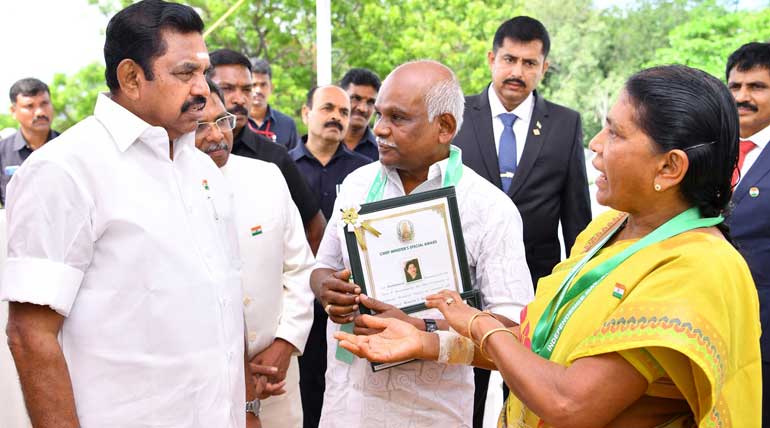 Chief Minister gives overly bravery award to Nellai couple Shanmugavelu & Senthamarai: Yesterday, during the Independence day celebrations, the chief minister gave the brave Nellai couple Shanmugavelu and Senthamarai the overly bravery award. It was given to honour their bravery in fighting and chasing away two armed robbers in Tirunelveli recently.
Elderly couple fighting video viral in social media on 12th August:
For Tamil Nadu people to see their favorite hero fighting several goons gives pleasure. Though they all know it was filmed for many days and with dupes of the hero. But to see a real fight was something new to them. They all were astonished on 12th August, with a real fight, read it again "real" fight of an elderly couple against deadly armed masked robbers was a treat.
The CCTV footage of the bravery of the couple went viral on social media. Chief Minister reacted fast and gave this couple Shanmugavelu and Senthamarai their earned award yesterday.
Senthamarai proved the Tamil literature of brave women are not wrong:
In the CCTV footage, when the robbers attacked Shanmugavelu from the back with sickles. Senthamarai being an older woman on seeing it did not cry or shout for help. She took on the robber head-on with just chairs and with whatever she finds. She not only saved her elderly husband but proved to the world that women are braver than what they seem to look.
Then both the couple started attacking the robbers. Since they expected mute surrender and crying from the elderly couple, the two robbers were stunned. Though armed with sickles, they ran away. The whole video was viral throughout India, and it was none other than Amithab Baachaan who congratulated the elderly couple. Chief Minister of late is fast in many good activities in the state. The way the elderly couple was awarded the overly bravery award yesterday was a proof. Congrats CM.