Telangana Tahsildar Burnt Alive in Broad Daylight
Vijayan Sankar (Author)
Published Date :

Nov 04, 2019 20:02 IST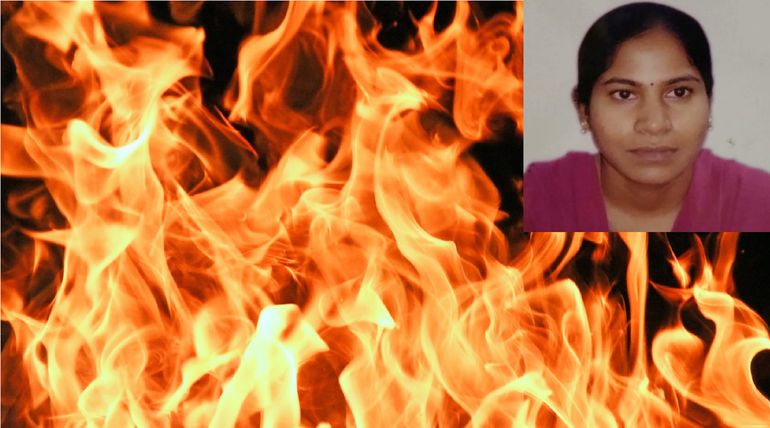 Telangana Tahsildar burnt alive in broad daylight near Hyderabad:
When even stopping a lower-level government employee from doing duty is an offense as per law, today, a Tahsildar in Telangana is burnt alive in broad daylight. Visuals of the young Vijaya Reddy running out of her room burning and screaming for help are abuzz in the social media now.
The heinous crime was committed in the revenue office near Hyderabad outer ring road today, 4 November, afternoon. Even Telugu movies could have such scenes only rarely. There has been a difference of opinion between the burnt young lady Tahsidar Vijaya Reddy and one landlord Suresh Mduiraju over seven acres of land near Bacharam village in Telangana. In Telangana, land records are being digitalized now, and there are widespread discrepancies.
Rachakonda Police Commissioner describes the incident:
Mahesh Bhagwat, the police commissioner of Rachakonda, said that the accused Suresh Mudiraju did not do this heinous crime suddenly on impulse. He had a plan and brought a bottle of petrol into Tahsildar Vijaya Reddy's room. He set her ablaze there and also got burnt in the process.
He is now admitted in a critical condition with more than 60 % burns. Vijaya Reddy came blazing out of her room, and the other employees tried to diffuse the fire with a blanket but were unable to save her. In the process, her driver and another employee have also burnt and now hospitalized.
What lead Tahsildar to be burnt in Telangana?
Telangana Chief Minister K. Chandrasekhar Rao recently promised to bring in a legislature and bureaucratic measure to solve all grievances of people due to the state's digitalization drive of land records. The state's Rythu Randhu welfare program is to provide investment support to landowners.
It is said that Suresh even got a court order to change the 7 acre land in his name for the government support and had come several times to the Tahsildar's office. Since there was a repeated delay in it, he has committed this outrageous crime. The police commissioner also said that apart from getting capital punishment for the accused, there will be cases of attempt murder on the other two injured persons in the incident.
Hearing the news, the officials of the revenue department are striking in some places of Telangana. In July, another young forest officer C.Anitha was brutally attacked by a group allegedly led by TRS MLA Koneru Konappa's brother Koneru Krishna Rao over a land issue. If this is the case for senior government officials, how will others work honestly in government offices, is the question rising in the minds of millions who watch in social media how young Vijaya Reddy is burning and crying for help now.